June 8/14: Dedication of St. Tom's Family Giving Centre
I provided some background music for the meal which followed the ceremony. I don't recall what I sang, and I don't expect anyone else does either.
---
April 2014: CBC Songquest Contest

This time I entered my song You're In Love.

Again this link may not take you directly to the song, but just to my CBC page, where you will have to find it yourself.
---
March 2014: My Contribution to Our Facegroup's March '14 Youtube Album
Each of us covered songs by people we knew. I covered Underground by Ziklag Offramp, written by Robin Harbron, and a man named Tim Lappala.
The playlist includes some pretty cool songs, including my Peter Hart covered by Darren Foulds, apparently while wandering all over Lakehead University.
---
March 7, 2014: St. Thomas Anglican Community Lunch
I provided background music for the Community Lunch in the St. Thomas' Anglican Parish Hall. I sang a mix of hymns, Beatles, Dylan, U2, John Denver (requested) and whatever caught my fancy. I really enjoyed it (and it warmed up my voice for singing later at Pinewood Ct.).
They invited me to do this regularly (every 2nd Friday). Hey, it's a free lunch!
---
Feb. 2014
Playlist from our Feb. Album Writing Month group, based on Shakespeare's Sonnet 64.
My contribution was Lofty Towers.
---
Feb. 9, 2014: Lakehead Baptist Church "Special Music"
I sang an old-timey-like Gospel song of mine: Get Thee Behind Me. Here is a video of the only recorded version there is of it:
And I can't recall the exact date, but on a previous Sunday, I sang a medley of my setting of the Shema (Hear O Israel) and my song Healer of Our Spirits.
---
Feb. 2, 2014: Walk For Memories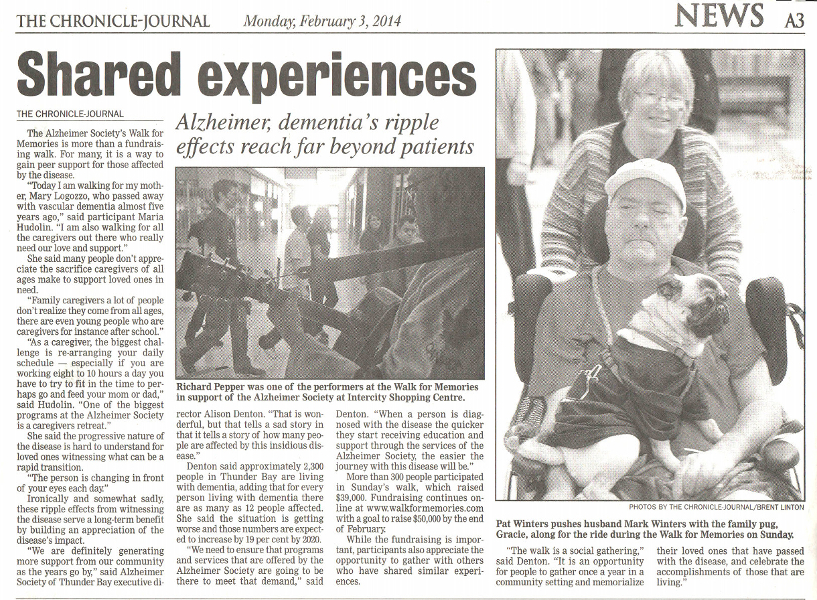 I sang I'll Remember You (Dylan), All I Want Is You (U2), What a Wonderful World*, Make You Feel My Love*, Eight Days a Week (Beatles), Gimme Some Money (Spinal Tap), For No One (Beatles), Oh! Darling (Beatles), Let It Be (Beatles), I Threw It All Away (Dylan), Flee As a Bird (hymn), When the Ship Comes In (Dylan), I'm Too Old For the NHL (Pepper), and Tie Me at the Crossroads When I Die (Cockburn).
* The hipster young lady opening up the shop behind me said she liked these 2 songs. She even knew that the 2nd was by Bob.
I also warmed up (with my Gr. 9 volunteer helper listening) with my Hockey Song Medley, Edelweiss, Caffeine*, Cal(i)purnia's Dreamin', This Wheel's on Fire (Dylan & the Band).
* My Gr. 9 volunteer helper recognized this as Cocaine, which he had recently been listening to.
---
2013
---
Dec. 19, 2013:
A group of friends & I covered 1984's Do They Know It's Christmas? singing/playing in Thunder Bay, Saskatoon and on the Interwebs.
---
December 2013:
I entered my song 110% in CBC music's Song Quest, looking for an original song for the opening montage on "Hockey Night in Canada". I didn't win, but I hope you'll give it a listen anyway, and then return to this page.
Hmm. This link might just take you to my page, and you'll have to choose the song yourself.
Here's the video:
---
Dec. 6, 2013: NOSM Students Holiday Concert (with Shawn Minor)
For this concert at St. Paul's Anglican, former Transparency Shawn Minor and I decided to reprise our Medley of Commercial Christmas Songs we had performed with The Transparencies for the Dorion Bible Camp staff party of 1997. We explained that, because time was short, we would have to sing some of the songs at the same time, whether it works or not.
1997 version
---
Nov. 13, 2013: Open Mic at The Study at Lakehead University
My Sound Check Song, Let It Be (Beatles), I Threw It All Away (Dylan), Don't Be Afraid, Drive My Car (Beatles), Monsters in the Sky, Little One, Caffeine (Cocaine parody), Nobody Talks, I'm Too Old (for the NHL), What a Wonderful World, and '69 - '74.
---
Sept. 25, 2013: Open Mic at The Study at Lakehead University
My Sound Check Song, Mothers of the Disappeared (U2), Caffeine (Cocaine parody), Nobody Talks, Don't Be Afraid, Cal(i)purnia's Dreamin' (California Dreamin' parody), All I Want is You (U2), Make You Feel My Love (Dylan), and my Hockey Medley.
---
Tuesday, Dec. 18, 2007: D.Y.U. Coffee House at St. Thomas' Anglican
In support of Ramesh Ferris's Cycle to Walk Campaign (re. Polio). The Transparencies had considered performing, but would have been drummerless, leaving only the musicians.
It turned out to be a different "quiet" little affair and so my (sort of) planned solo set turned out quite different, partly because of the presence of St. Michael's Junior Choir, their family and priest.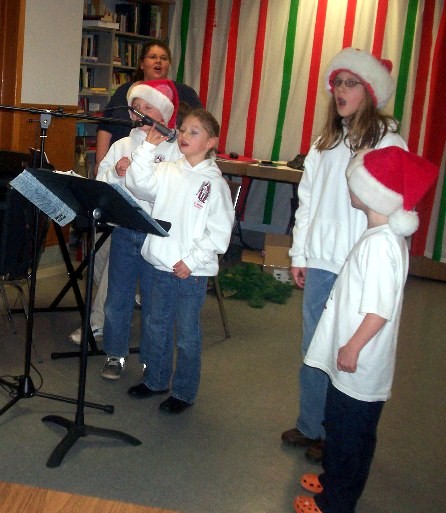 Not that I'd been planning on swearing; it's just that I decided to go in a completely Christmas/Winter direction, rather than Lost Dogs, U2, Dylan, Cohen direction.
FWIW my set lists (songs in approx. order as best I remember it).
Jingle Bells
Rudolph
Happy Xmas/War is Over
Matty: "Maranda and friends need to sing now." (I accompanied them on a few Christmas songs.)
Then solo again:
Mary's Boy Child
Jingle Bell Rock
It's Beginning to Look a Lot Like Christmas
White Christmas
Little Drummer Boy
All I Want For Christmas is My Two Front Teeth
The Christmas Song (Chestnuts....)
Go Tell It On the Mountain
The Coventry Carol
Have Yourself a Merry Little Christmas
Private Table Concert for Thomas & Daniel Abthorpe and friend, Riley:
Frosty the Snowman
O Holy Night
Review: "The Leafs suck!" Thomas Abthorpe
---