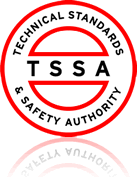 Authorized TRANE Dealer

Copyright
©
Leclair Heating & Sheet Metal.
All rights reserved.
2613 McGregor Pl. Thunder Bay, Ontario P7E 5G9
Phone: (807) 623-4655
Energy efficiency
Gas Fired, Forced Warm Air Furnace
Home heating with a high efficiency natural gas forced warm air furnace offers the home-owner the ability to provide consistent, even comfort throughout the home in all seasons while maximizing their energy dollar. Whether a single-speed/single-stage basic model or a variable-speed/multi-stage premium version, natural gas condensing furnaces combine energy savings with outstanding home comfort. And, as with all natural gas appliances, you never have to remember to call for fuel refills since natural gas is always at your home or business regardless of the weather or road conditions.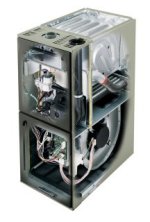 Modern high efficiency condensing furnaces incorporate additional heat-transfer surfaces to extract the most heat possible from the natural gas, allowing less than 4% - 7% (depending on the model) to be lost out the venting. So much heat is extracted from the natural gas for use inside the home that condensing furnaces are vented with approved plastic venting systems – either through a sidewall or vertically through the roof or a chimney cavity. Furnaces with two-stage firing enables the unit to operate in low-fire mode for most of the season, ramping up to high-fire only in the coldest of temperatures. In addition, advanced motor design (ECM Constant Torque motors) reduces the electricity used by the blower motor by up to 70% compared to a conventional motor, allowing continuous low-speed fan operation to circulate the air in the home, and higher speed operation to distribute the heat when the furnace is firing.
Oil Fired, Forced Warm Air Furnace
Ever since the fuel price scare of the early 1970s, the industry has been working to improve the efficiency of furnaces and boilers. The introduction of improved burners with flame-retention heads was the first major step in boosting the efficiency of conventional oil-fired heating equipment. Now manufacturers have produced a new "mid-efficiency" class of oil furnace designed to make the most of the superior performance of these new burners.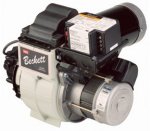 The Oil fired furnace must keep the exiting gases above a certain temperature to prevent water vapour in the flue gas from condensing inside the furnace or venting system, where it can cause corrosion and other serious problems. The exit temperature of the combustion gases can be as low as 150°C (302 °F), which is higher than those of Natural Gas. This is one reason seasonal efficiency is lower for oil than Natural Gas.
Mid-efficiency furnaces may have a seasonal efficiency of 80 to 85 percent and may use 28 to 33 percent less fuel than an old conventional furnace producing the same amount of heat.
Trane CleanEffects™
Combine the energy efficiency of an oil fired or natural gas forced air furnace with other home comfort system add-ons to provide superior all-season conditions for you and your family;
Central Air Conditioning offers you the ability to keep your home cool during the hottest of days, and in the process of cooling dehumidify the air to maintain optimum humidity levels inside your home – and take away that continual damp feeling during the height of the summer season.
Humidifiers provide a cost-effective way to maintain optimum humidity levels inside your home during the winter when outside relative humidity drops to near desert-like conditions.
Electronic Air Cleaners offer excellent air cleaning capabilities, reducing air-borne contaminant levels for a more comfortable indoor experience.
HEPA filters take air cleaning to a higher level for those households where air quality is a high priority.