Home
To Menu of Richard's activities | Previous month | Next month |
---
Richard Pepper's
August 2005

---
---
Manitoba Pioneer Camp
Classic Boys I
Aug. 1-12
(For a few pics of Camp Gitchigomee where I spent most of July,
check the Camp Gitchigomee website.)

Index of all my Boys Camps at MPC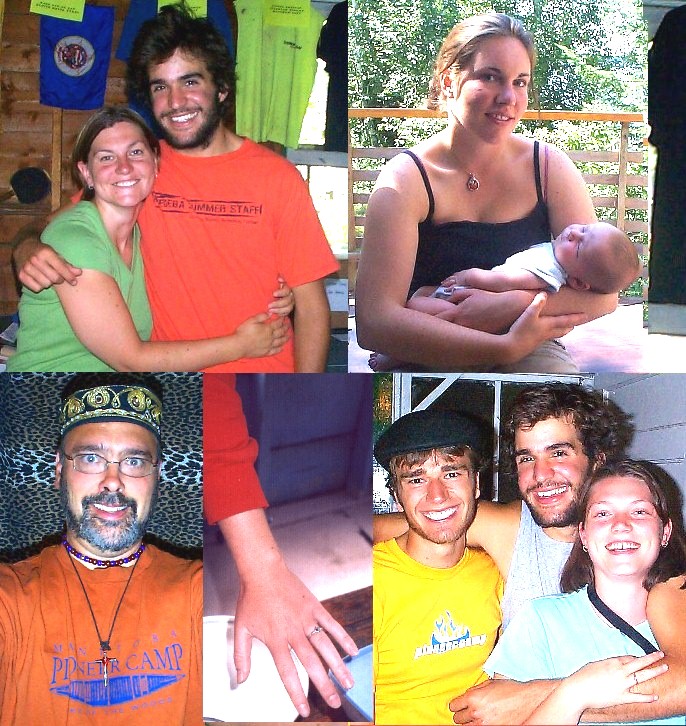 Collage of Thunder Bay Area &/or Lakehead U. people serving at MPC in '05:
Kara, Matt (Ragu), Emily, RP, Rache (hand), Mike, Matt (again) and Erin.
(Christine "Murphy" Regehr, Girls Camp Director, was on vacation in Australia during Boys I.)
Click the above pic for a larger, less distorted version.
Sun. July 31:
Evening: Met with Senior Section Cabin Leaders. We shared our stories of how we came to be there at MPC. I sang Don't Be Afraid for them.
My role was Senior Section Director serving four cabins of 13-15 year olds and their staff (#2: Teak & Padre; #3: Klik & Timex; #4: Thunder & Sasquatch; #5: Uncle Boo & Hydro). I stayed (most nights) in #6. Inside view. Night sounds & sights of lapping waves and brilliant stars.
Mon. Aug. 1:
Morning: We welcomed the campers as Men of the Sea (the majority being legitimate businessmen, NOT pirates).
Lunch was DIY sandwiches. "Good food at Pioneer!" -- and lots of it!!
After lunch we were led in the song "Sons of the Sea" by the Bulldog Team.
The afternoon involved the cabins rotating through visiting the doctor, swimming their "200s", signing up for tracks (skills), cabin photo and meeting with their section head ( Toga, Doitnap or me) re. their cabin contracts. After my four cabins had met with me, I went and did my 200s (so that I wouldn't have to wear a lifejacket while swimming).
Supper was spaghetti.
Evening Program was "Royal Roll". During this game I started walking on the Island Trail and ended up walking around the entire island (and missing snack!) Snack happened every evening whether or not I mention it.
Most evenings I paid each of my cabins a visit.
Tue. Aug. 2: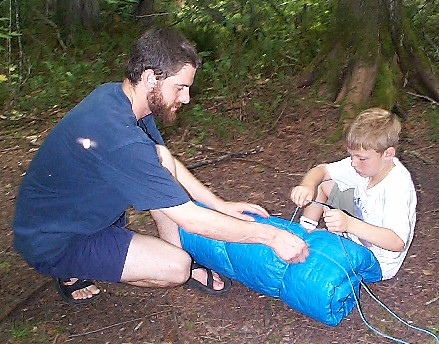 Staff mtgs at 7:15 most days. This year Doit and I learned the actual tune to Stanley Houghton's "God is Our Refuge". Maybe I can find a cheesy Midi file out there to link to.
Morning dip every day at 8 (except canoe trip). Seniors dipped at the front dock and Cabin #4 was first there most days with close to 100% participation every day. So I awarded them Morning Dip Meister certificates.
Morning:
After breakfast (hot & cold cereal & pancakes that day) we would have a skit from "The Revenge of the Sith" (usually with better acting than in the movie), followed by a few thoughts from Thaddeus about such themes as Love, Trust, Despair or Hope.
|Love Scene |Passionate Embrace| |Death of Mace| |Obiwan vs. Anakin| |"It's a boy (& a girl)!"|
(I supplied the light sabers and Mace's hand.)
"Servants of Servants" meeting each day with Boys Camp Director Thaddeus, Assistant BCD Darbuka, Program Director Ragu, Toga and Doit (& usually one or two of Toga's children).
Tripping Skills: I tagged along with Warbler's class to brush up on tent set-up and bedroll- making.
Bible Discovery in cabin groups (Sat in with #3).
Tripping Skills: I helped Uncle Boo teach a huge class of one advanced Junior camper (pictured above).

Lunch: Hotdogs
Afternoon:
Asterisked items are events that happened most afternoons, whether I mention them at all hereafter or not.
Rest Hour:* for everyone. It was my job to supervise my four cabins, but there were very few problems.
Tracks:* (such as Swimming, Kayaking, Archery). This day we had "Chill With Peps" in #4 due to various scheduling reasons. I sang them hockey songs, played Pick-a-Joke and a few Mind Games with them.
Free Swim:* Royal Rumble in the shallow end.
Emergency Drill
"Clubs":* This day I attended "Staff Club" and hung out with Darbuka and Uncle Boo in the Kuskisew.
Supper: Pizza
Evening:
Each Section did something different this night. The Intermediates took a ride on the PIII to Cash Island for S'mores (as we did last year). I think the Juniors played on the beach. We played Bucketball! Group Shot After this all of us (including me) took a brief swim before snack.
Wed. Aug. 3: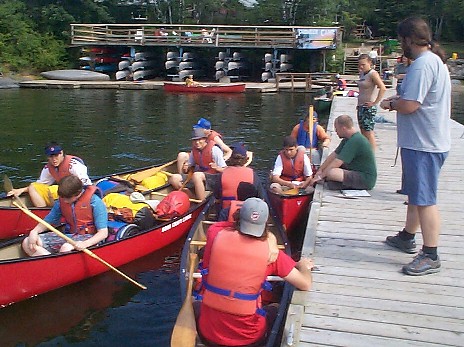 Breakfast: Bran Squares (Every day included hot and cold cereal and so I won't list it each time.)
Morning:
Saw off Cabins #4 and #5 on their trips. (#4 pictured above.)
Tripping Skills: Taught my one student how to start a one match(book) fire and to almost-cook runny bannock on a stick.

Lunch: Tacos
Afternoon: Saw off #3. Visited "Staff Club" again with Thaddeus, Kermit, Darbuka, Ragu and Iceman.
Supper: Super beefy stir fry! Did I mention "Good food at Pioneer -- and lots of it!"?
(Vegetarian alternatives are available at every meal too!)
Evening: Evening Program was "Knighty Night". Along with others, such as Snickerfru, I was a Wizard who gave out gold to campers once they had performed their quests. However, this gold could be stolen by goblins!
Snack; "Songs and Stories" led by the Worship Team and Thaddeus.
At the end of such times we would end the day by linking together, facing the sunset and singing "Abide With Me" and "Day is Done" followed by a shout of "Thanks for the day, comrades!" (Usually we wore our shirts.)
Thu. Aug. 4:
Breakfast: Sausage and scrambled eggs
Morning: Brushed up on tree knowledge; sang songs to #2; Taught my student tree ID by having him draw Tree People (Tolkien plagiarized me, y'know).
Lunch: Grilled cheese sandwiches, soup and hotdogs
Afternoon:
Saw off #2. During Clubs I went to Crafts and made the world's ugliest hemp (aka macrame) bookmark.
Supper: Chicken and potatoes
Evening:
Evening Program was "Cross Border Shopping". I looked after #13 while their staff were off.
Since all my cabins were off on trips, I had time to hang out in the Dining Hall and get clobbered in a game of Dutch Blitz with Julia, a Sara and LIT Casco, while Rache looked through my photo album from my Feb. 2000 trip to Israel.
Fri. Aug. 5:
Breakfast: Biscuits
Morning:
Reviewed knots with my Tripping Skills student and then we used my binoculars at the front dock.
Lunch: Macaroni
Afternoon:
My "Half Day (Off)" began after lunch. I chatted with Bucko re. his upcoming Anglican Youth Group job.
The following week I realized that I had first "met" Bucko c. 20 years earlier while he was in utero. His father, Bob Heinrichs (front row, 3rd from left, beside Andy James), had been my "counsellor" (as we called cabin leaders back then) at Dorion Bible Camp when I was 16.
During Clubs I finished my ugly bookmark.
Supper: Sloppy Joes
Evening:
Evening Program was "Robin Hood", followed by Snack and Songs and Stories.
Sat. Aug. 6: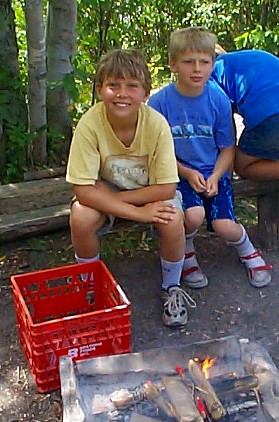 Slept in since it was my Half Day.
Breakfast: Granola and peaches
Morning:
My Tripping Skills student and I joined his brother's class taught by Bino and cooked bannock more efficiently this time. Note in the picture above their resemblance to Dr. Clare Hawkins with whom I was in ISCF in the 70's.
Lunch: Chicken soup and buns
Afternoon:
Rotation of all-camp games (such as "Cross the River", Canoe Races and Filling Buckets Using Leaky Buckets.
Supper: Lasagna
Evening:
Evening Program was "Markers". For some reason my "Peps" stayed on the campers' skin a bit longer than the other staff names, but not permanently. Evening Dip; Snack; Songs and Stories.
I stayed the night in #12 to cover Iceman's Half Day assisted by Chico and read from The Lion, the Witch and the Wardrobe (the first of The Narnia Chronicles). The father of one of the boys was a best friend of mine in Gr. 13 and a member of the ISCF group with which I first travelled to Leaders Camp at MPC in 1977.
Sun. Aug. 7: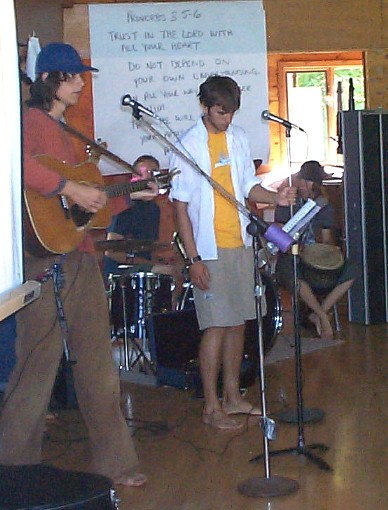 Breakfast: Pancakes (if I recall correctly)
Morning:
All the Senior Cabins arrived back this morning.
Chapel, featuring lots of singing and another Star Wars skit. Note that Warbler is playing my guitar in the picture above, due to his breaking a string on his.
Lunch: For some reason I haven't recorded this meal.
Afternoon:
During Tracks I went to Crafts and made a necklace. From c. 1994 until 2002 at Camp Dorion I always wore a bandana. I wanted something similar to wear at MPC. (At Camp Gitchigomee I wear a choker made by a Secret Pal in 2004.)
Boys Camp Challenge: All the campers and a few staff were stationed c. 50 metres apart around the Island Trail and Ledge (National level steeplechaser) raced them around the island and finished only 21 seconds behind the last boy. (He would like to remind us that he was made to run wearing a PFD.)
Supper: Chicken Pot Pie
Evening:
Evening Program was "Royal Roll" again and I was on the Red (Orange) Team. However, I spent much of the game tracking a doe. |Pic 1 | Pic 2 | Pic 3 |
Snack and Evening Dip.
I spent the night in #4 covering Sassy's Half Day. I sang them a few songs, including "Calpurnia Dreamin'" and "Et Tu (Brute)", since we had discussed the Roman Imperial Succession following Julius for a while. Then I read The Lion, the Witch and the Wardrobe. (BTW #3 was reading Out of the Silent Planet, #2 Vinyl Cafe stories and #5 Shakespeare's "The Tempest"!)
Mon. Aug. 8: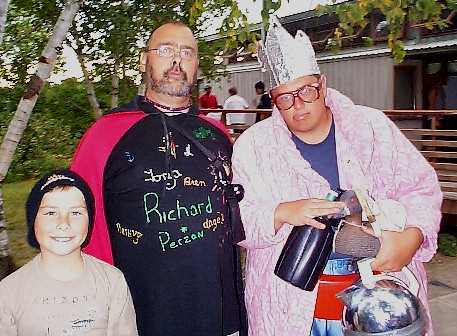 Breakfast: French Toast and Bacon
FWIW here are some sources re. the rumour that French Toast was originally German Toast: Wikipedia.org and Lyberty.com.
I played the part of The Herald (pictured above with King Eugene and a little Texan) in the after-meal skits announcing the Evening Program "Troika" led by the LITs.
Morning:
Wrote up my Tree People idea, sat in #2 for Bible Discovery and successfully lit a one match fire with my student.
Lunch: Dragon Burgers
Afternoon:
Visited (included singing songs) in #2 and #3 during Rest Hour. Chatted with Uncle Boo and with Klik during Tracks.
Supper: Perogies and Sausage
Evening:: The Coronation of The Troika (and Overthrow of The Pretender Eugene)
Tue. Aug. 9:

Breakfast: Cake
Morning:
Sat in #5 for Bible Discovery. My student and I succeeded in lighting a zero match fire for marshmallow roasting.
Lunch: Macaroni with Cheese Sauce
Afternoon:
Hung out in #3 during Rest Hour. Helped 3 campers find their way during Clubs.
Supper: Rice and Sweet'n'Sour Meat Sauce
Evening:
Evening Program was "Heart of Darkness", featuring Mud Men (not Monsters) of no particular ethnic origin. |Pic 1 |Pic 2 |Pic 3 |
I played the part of a British coffee merchant giving out coffee beans to campers once they had performed their quests. (Hmm. Sounds familiar?)
Snack; Led songs in Warbler's absence for "Songs and Stories"; told a story in #5 (Believe it or not, it involved Rapping).
Wed. Aug. 10: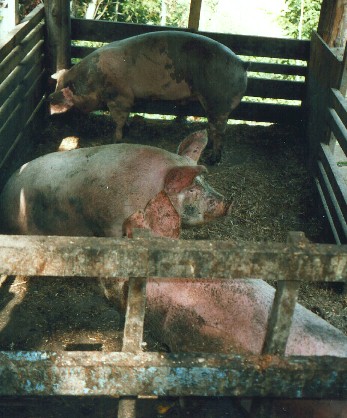 Breakfast: Pancakes with strawberries
Morning:
Sat in #4's Bible Discovery. Visited MPC's Garbage Disposal Units (pictured above) with Uncle Boo and then practised knot-tying with him (not on him).
Lunch: DIY Sandwiches
Afternoon:
Showed my Israel pics to Hydro and Uncle Boo in #5 during Rest Hour.
Tried to help 3 campers find their way during Tracks.
Supper: Tortilla Casserole
BTW at some point prior to this, Timex started singing his "Timex's Voluntold Scraper" song after each meal which runs as follows:

It's Timex's voluntold scraper, (Scraper!)
When Timex tells someone to scrape (to scrape!).
It's Timex's voluntold scraper, (Scraper!)
When Timex tells someone to scrape (to scrape!).
You're scraping and you're bouncing, Billy!
Evening:
Trip Reports (skits) such as from a crayfish's POV or "The Tripinator".
Thu. Aug. 11:
Breakfast: Biscuits
Morning: Skills review and level completion. During Bible Discovery I had my one-on-one Debrief with Thaddeus.
Lunch: Burgers
Timex & Bucko in Canoeing Gothic (announcement re. Canoeing levels)
Afternoon:
Rested during Rest Hour; Jammed with Warbler while campers continued level completion.
Worked on my costume for supper (theme: "Literary Classics" i.e. anything in a book, including a comic book):
|Warbler & Brendan as Willy Wonkas |U.Boo as Silenus a Wood Nymph |
|Teak & Kevin as Calvin and Hobbes | |Mitch as Little Red Riding Hood |
My character was noble Count of Romania, Vlad, at times known as "the Impaler" (due to much exaggeration), whose deeds were reported in a maliciously distorted form in a little book by Bram Stoker.
Supper: Yummy turkey dinner! Good food at Pioneer -- and lots of it!!!
Evening:
Awards (in Bill Mason Place); Snack in Dining Hall; Back to BMP for Candle Lighting Ceremony followed by Senior Section Sharing. I sang "Time Tears Us Apart".
Fri. Aug. 12: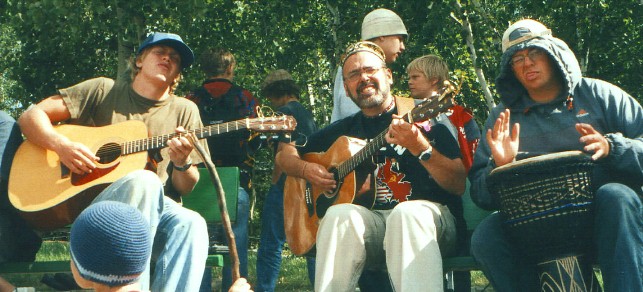 Breakfast: Cinnamon Buns
Morning:
While the campers brought their stuff to the dock and we waited for the big group picture, Timex, Klik and I played the Blues in A for c. 1 1/2 hours without stopping (pictured above).

Lunch: DIY Sandwiches
After lunch Ledge led us in singing well.
Afternoon:


Campers left. Clean-up. Debrief and nachos. Snooze and chat with Padre (not at the same time).

Supper (staff only): Leftovers
Evening: Packed up.

Sat. Aug. 13: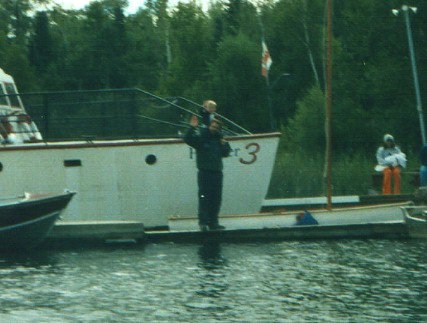 Breakfast with Darbuka: Cereal
Morning:
Said goodbye to the boys. ("Goodbye" is not final, BTW. It means "God be with you" and allows one to infer "until we meet again".)
I was driven across the lake to my car by Exec. Director Jeff Friesen. We talked about the excellent "Thunder Bay" students he'd had on staff this summer and MPC's hesitancy to recruit campers and staff too "aggressively" from Thunder Bay, sensitive (mostly) to Camp Dorion's presence. I suggested they go for it, emphasizing the kind of camp MPC is (different from DBC etc.) in order to appeal to those who are interested in that kind of camp. See my comments on my Aug. 16/05 post at reppepper.mindsay.com for more on this topic. Below is a list of features of MPC I observed as worth noting:
Drove to Thunder Bay. When I gassed up near Kenora, I had trouble starting my car and so in Dryden I left it running while I quickly used Robin's washroom and bought a "pee-donut".
Last year I began a page of "Ideas Dorion Bible Camp Could Consider From Manitoba Pioneer Camp". I hope to update it and I really do mean that these ideas could be considered and only adopted (and adapted) where they would fit the CSSM camp culture.
---
Thunder Bay Anglican Youth Ministry
Facilitator

St. George's Day Camp
(The Lion, the Witch and the Wardrobe)
Aug. 22 - 26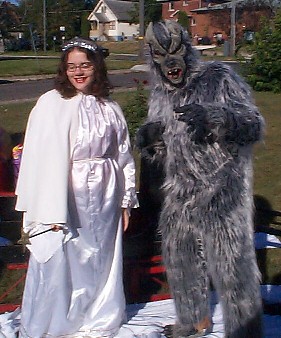 ---
Northwood Park Church of Christ Activities
1) MPC is a wilderness camp emphasizing canoe tripping skills. (The main site does have electricity, phone & plumbing, but off-site canoe trips are an integral part of the program.)
2) Appreciation and care for God's creation are emphasized (evidenced by raising pigs and recycling).
3) MPC has a broad Evangelical spiritual outlook (including active members of "mainline" churches) and a gentle, relational approach to sharing Christ's good news. Most Bible exploration is done in smaller groups, not lecture format.
4) Diversity is valued. Alternative meals are offered for vegetarians. The staff handbook discourages (for eg.) "dissing" one another's taste in music etc.
5) Most programs are "segregated" by gender, ie there are Boys Camps and Girls Camps. During Boys Camp the women are Operations (Maintenance & Kitchen) Staff and vice versa. Thus staff are not "stuck" in one role all summer (unless, I believe, that's what they prefer).
6) However, the leadership actively discourages any attitude of one gender (or its camp) being superior to the other. And FWIW in my time there so far, I heard only a tiny bit of that (from young, inexperienced staff). Concern for the just treatment of all people and avoidance of stereotypes is definitely a part of the MPC camp culture.
7) Many (most?) of the staff are university students, enhancing the diversity of interests and level of discussion.
8) The LIT (Leaders in Training) programs (separate genders, 16,17 year olds) are a month-long, intense spiritually, socially and, um, canoeingly (but this year's involved a beginner and he was helped and improved greatly). They are an integral part of raising up staff each year and changing young lives forever.
So if this appeals to you, you might check out Manitoba Pioneer's website. While you're at it, for something closer to home, check out Camp Gitchigomee's as well.
---
Some MP3s of my (& the Transparencies') music
---
Back to top.
---
Home
To Menu of Richard's activities since Dorion Bible Camp. | Previous month | Next month |
Latest Update Mar. 13, 2020 Lenovo