Pictured here is Benni, Dalgarnoch Front Runner, (see titles below), from my very first litter when I started back into breeding Shelties. His Trainer Barb Baron, fell in love with this little man, as soon as she saw the drive, and the devil may care attitude he had, even at 7 weeks of age. Although she was looking for a little girl, he stole her heart, and what a fabulous journey these two have had over the years. They have captured many major titles, especially in Agility which Barb specializes in, and have won numerous high in trial along the way.
Benni, who is 12 this year, is now retired from competition, but still loves to run around the yard like a youngster. Barb too, is also taking it easy, watching the new comers in the ring, whom I am sure are asking for many words of wisdom. I have watched her and Benni compete over the years and it was a pure delight to see. The speed and accuracy was amazing. Blink your eyes and you missed the run. I know, because I turned my head away then back, more than once, to see them coming out of the ring.
They had the honour of competing at the Toronto Royal Winter Fair, in the race with horse against dogs over the jumps, and they were also invited to compete in the World Agility Trials representing Canada. An honour to be sure. My congratulations to a spectacular working team, and a truly wonderful representative of a Performance Sheltie.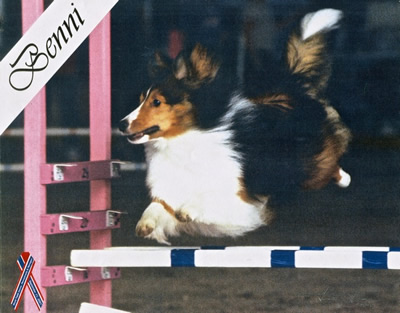 Dalgarnoch Front Runner- ATCHc. SSAM, GBAM, SBAM, SCBAM, CKC CD, AGX, IJW, AKC CDX, AKC RA, MX, MXJ, MXF, USDA AAD, NATCH
Sire: Ch. Barwood Brushfire Dam: Ch Dalgarnoch Tarara of Amberlyn ROMC TT JHD
Breeder: Bettijane Flanagan
Trainer: Barb Baron, Toronto Ontario
Agility Assoc. of Canada

ATCHc

Standard Silver award of merit

Gamblers bronze award of merit

Snooker bronze award of merit

Steeplechase bronze award of merit

Canadian Kennel Club

Obedience - C.D.

Agility excellent (AGX)

Intermediate Jumpers with Weaves (IJW)

American Kennel Club

Obedience - C.D.X.

Rally - Advanced - (RA)

Agility - MX,

MXJ,

MXF

USDAA
Agility - Advance - (AAD)
NADAC
NATCH
---
Thunder Bay Kennel and Training Club - Nov 16/17 2012
Breed Standings as of Nov 18, 2012 Kalista #5 Bailey #10
Congratulations to Terry Heward on a spectacular weekend. At the Thunder Bay Kennel and Training Club Rally 0 Trials, Terry handled Kalista, Ch. Dalgarnoch Kalista AE RE, and Bailey, Dalgarnoch Bailey's Irish Creme RE, in Advanced B, and Excellent B. Both Kalista and Bailey obtained 2 legs completing their Advanced B title, and moved up to Advanced Excellent. Under judge Joey Farrell, Kalista and Bailey qualified, obtaining their Advanced E titles as well, and now can sport the RE behind their names. Ranking #5 and #10 , we couldn't be prouder of Terry, and the girls.
"New" Rally Excellent Title Holder - Kalista Ranked #5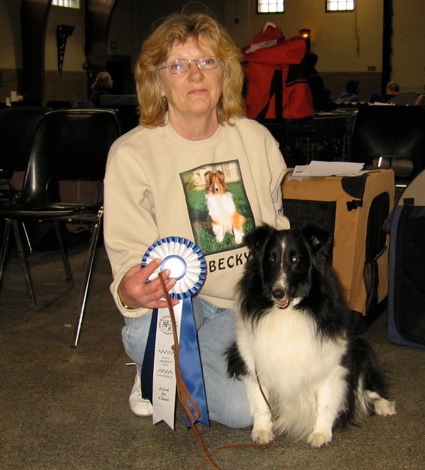 Terry Heward and Ch. Dalgarnoch Kalista RAE
"New" Rally Excellent Title Holder - Bailey Ranked #10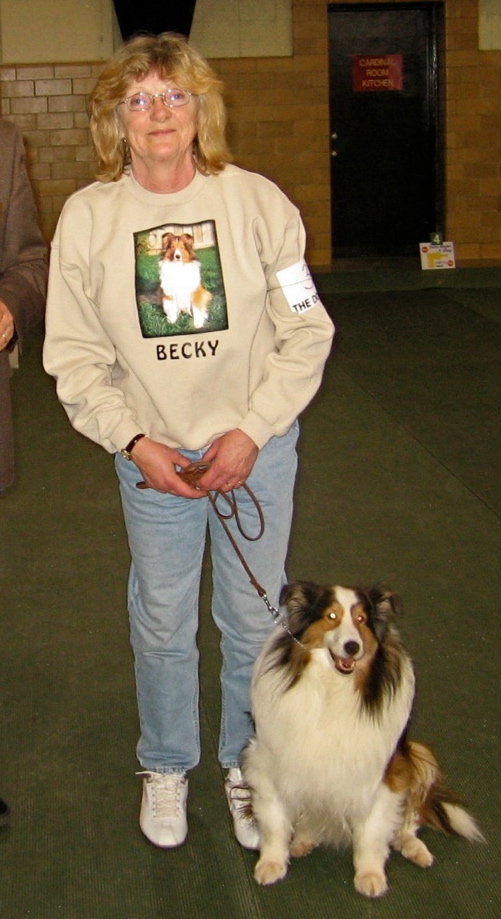 Terry Heward and Dalgarnoch Bailey's Irish Creme RE