Home
To Menu of Richard's activities during (& after) my 2003-04 Health Leave of Absence (from Dorion Bible Camp & Conference Centre) and BEYOND!
| Previous Month | Next Month |
---
Richard Pepper's September 2004

---
---
Frontline
(Inter-Varsity Christian Fellowship High School Ministry)

Leaders Camp
at
Manitoba Pioneer Camp
Sept. 3 - 6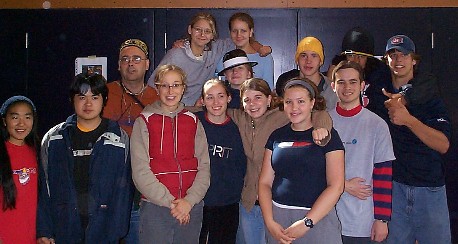 Click the pic for a larger version.
Mucketball
(Some pics are from Brian Jones.)
People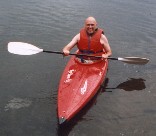 This was my first time ever in a kayak. Click the pic for a larger version, if you really feel it's necessary.
Games

Leaving

Brian's pic is enhanced only a bit; it really did look as if the rainbow ended at Annika's car.
A good sign for her fundraising future?
Kick-Off
at
Plunge
Sept. 12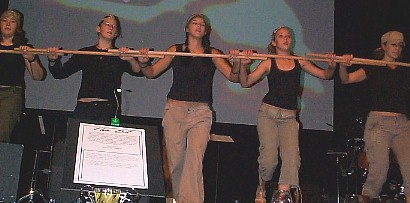 See You at the Pole
Sept. 15
Leaders Day at Annika's
Sept. 25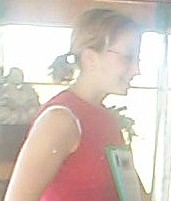 "I can't give you the name, but I can give you the initials.
Her initials were L.L." (One of my "Hound of the Baskervilles" lines.)
---
Tony Campolo at Redwood Church
Sept. 7
---
Mum's Gordon & Vance Judge Award
at
The Fort William Rotary Club
Sept. 8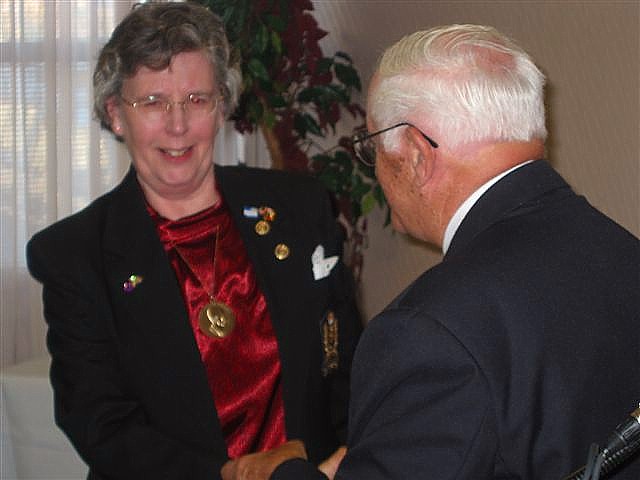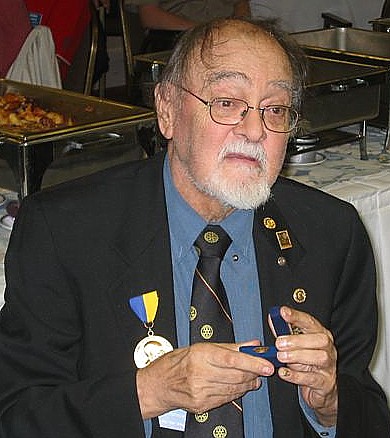 ---
Thunder Bay Christian Homeschoolers Picnic
Chippewa Park
Sept. 10

I led a few games.
---
Northwood Park Church of Christ Activities

Karen's Birthday Party
Sept. 11

Sylvia's Birthday Party
Sept. 24
---
Music
Not much activity this month. I did lead a few songs and games for St. Michael and All the Angels (or is that "Anglicans"?) on Sept. 12 and I hope All of Them liked it. As well I am working on recording my Cutting Edge Praise Song.

We do also have another coffeehouse coming up for the evening of Sunday, October 17 in the basement of the Northwood Park Church of Christ (Redwood and Edward Streets).
---
Dance at Lappalas'
Sept. 18
---
Mara Whitfield's Baptism
Sept. 19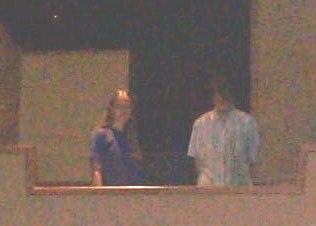 Sorry, this pic is so dark and distant.
---
Cambrian Players
Monday, Sept. 20 was the first reading of "The Hound of the Baskervilles" to be presented by Cambrian Players Nov. 11-20 at the Bora Laskin Theatre (L.U.'s Faculty of Education). I play John Barrymore the (bearded) butler who may or may not have "done it". Come out and see.
---
Thunder Bay Anglican Youth Ministry
Facilitator

This is the title of my new part-time job which I began on Tuesday, Sept. 21. Click here for further explanation.
---
Some MP3s of my (& the Transparencies') music
---
Back to top.
---
Home
To Menu of Richard's activities during (& after) my 2003-04 Health Leave of Absence (from Dorion Bible Camp & Conference Centre) and BEYOND!
| Previous Month | Next Month |
Latest Update Mar. 14, 2020 Lenovo