Brian Holden
printmaker and visual artist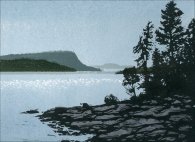 Purchasing Art
This page provides detail about each piece of art and allows for online purchasing. I use the Secure Server site Paypal, which accepts credit cards and e-checks. You do not have to have a PayPal Account to use your credit card or bank account to pay! When you checkout, choose Paypal, select the option "I do not have a PayPal account", then click "continue" and follow the instructions. Shipping and handling charges will be added to the purchase price. Please allow 2 to 3 weeks for delivery.

Shipping costs that are applied to purchases from my website in PayPal reflect rates based on mailing destinations in Canada and the continental United States. For Canada I will use Canada Post Parcel service. Purchases destined for the USA use United States Postal Services Priority flat rate* envelope or box (* depends on the package size).

Canadian customers, shipping rates reflect Parcel post rates and do not include insurance on a package. I will make every effort in the packing to ensure their safe journey. However I can not be held responsible for any damages during shipping if the packaging is removed at the final destination.If you would like the purchase to be shipped more securely please contact me first by e-mail before purchasing and I can give you a quote.

For all purchases outside of North America, and/or if you would like the package insured and/or delivered more quickly, please contact me by email at brianholden@shaw.ca to receive a quote on the cost.


Please note that some prints (hand-coloured, variable edition, collograph) may differ slightly from the image on the web site. Please contact the artist directly. Images of available prints can be sent by e-mail so that choices can be made. All images are hand-printed and have generous white borders.

The list below provides the images, details about the work, purchase price, and links to purchase options. All prices are for unframed work, and are in Canadian dollars.
You can click on an image to see a larger version.
Interior cycle of life
serigraph 2008
printed on Canson edition paper
image 12.7 x 17.8 cm
(5 x 7 in.)
$85 unframed

Lichen formation
polymer plate photogravure/hand colouring 2008
printed on Canson Edition rag
image 12.7 x 17.8 cm
(5 x 7 in.)
$85 unframed

Mountain Ash in Fall
acrylic plate engraving/hand colouring 2008
printed on Somerset rag
image 12.7 x 17.8 cm
(5 x 7 in.)
$85 unframed

Polypore Fungus
acrylic plate engraving/hand colouring 2009
printed on Canson Edition rag
image 12.7 x 17.8 cm
(5 x 7 in.)
$85 unframed

Late afternoon-the woods
acrylic plate engraving 2008
printed on Somerset rag
image 12.7 x 17.8 cm
(5 x 7 in.)
$85 unframed

Winter evening
serigraph 2008
printed on Arches 88 rag
image 12.7 x 17.8 cm
(5 x 7 in.)
$85 unframed

Young moose twins
polymer plate photogravure/hand colouring 2010
printed on Somerset rag
image 12.7 x 17.8 cm
(5 x 7 in.)
$75 unframed