Brian Holden
printmaker and visual artist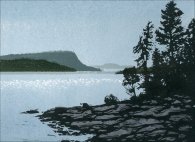 Biography
Brian Holden is a Thunder Bay based artist and arts educator. His work is highly influenced by his surroundings and this is reflected in studies of the landscape and flora/fauna of this region. He was born in Northwestern Ontario and during his youth had the opportunity to live around the province in a variety of small communities that bordered on wilderness (boreal forests of Northern Ontario) and less populated rural regions of southern Ontario. In his childhood and teen years he spent time exploring the woods and fields which forged a deep respect for and love of nature. This has continued to be the source of inspiration for the imagery he creates. Brian studied the basics of visual art for a one year period at Sheridan College in Brampton Ontario. After this he made the decision to undertake an independent direction with his creativity. He took the basics of visual arts fundamentals he learned and through selfteaching has expanded his skill and understanding of a range of various mediums.
He has called Thunder Bay his residence since 1980 and this is where his artistic explorations began with detailed graphite drawings on paper followed later with landscape and still life studies in watercolour and acrylic. In 1983 he rediscovered printmaking and began producing small silkscreen studies. These works made their way into different venues around the city of Thunder Bay and introduced him to the public as an emerging local artist. The first recognition came in 1981 when he won the coveted first place award in drawing at the Canadian Lakehead Exhibition. This was followed in 1984 when he received an honourable mention for a small detailed graphite drawing titled Boreal Road. His study was chosen by a jury of 3 noted Canadian artists as one of thirty works representative of visual art being produced in this region. A tour titled Art Affairs North followed and exhibition in public galleries across Canada ensued.
Since that time Brian went on to display artworks in many collective artist shows in Northwestern Ontario. In 2010 he was invited to be part of a trio show at Gallery Stratford in an exhibition of print based studies that examined the role of water in the environment titled Watermark. This was followed later that same year with his first solo exhibition in series of multidisciplinary prints titled Wilderness at the Pictograph Gallery in Atikokan ON. From Jan - April 2012 this same solo exhibition made its debut at the noted Thunder Bay Art Gallery. This was accompanied by an artist talk and two printmaking workshops. Brian presented a series of miniature size prints Sept 2012 in an exhibition titled Look Closer at the Baggage Building Art Centre Gallery in Thunder Bay. Brian also displays his work online in a website and has a blog dedicated to his artistic pursuits.
Printmaking has been his focus for the past two decades and various methods used to make a print have provided the stimuli and challenges to keep his attention focused towards this art form. He has employed a variety of printmaking disciplines in his studio practices that include relief block printing, serigraphy (silkscreen), intaglio processes (etching) plus collagraph and monoprint. Recently he has been exploring the application of relief engraving. His painting skills also are applied into some of the print imagery through hand colouring. Brian has a firm belief that printmaking can retain its traditionalism but can also welcome and incorporate new technologies.
He is active in the local arts community and was a long-time member of a local art collective. He is also a strong supporter of non-toxic printmaking practices. Not only is Brian a studio based artist but he has been active sharing his knowledge and expertise as an arts educator in the educational system through provincial and regional funded Community Arts and Heritage programming and also through the Ontario Arts Council Artist in Education program.
To read or download a detailed curriculum vitae, please click here.
Education
Sheridan College, Brampton Ontario - Visual Art Fundamentals 1978
1980 to present day -self-taught
Exhibitions
2017 - The perspective from here - juried exhibition, Thunder Bay Art Gallery
2017 - Small Wonders -The Boreal - Pictograph Gallery, Atikokan ON
2015 - Small Wonders -The Boreal - Baggage Building Arts Centre, Thunder Bay ON
2012 - Look Closer - solo printmaking exhibition - Baggage Building Art Centre - Thunder Bay ON
2012 - Wilderness - solo printmaking exhibition - Thunder Bay Art Gallery
2011 - Wilderness - solo printmaking exhibition - Calico Coffee House - Thunder Bay ON
2010 - Wilderness - solo printmaking exhibition - Pictograph Gallery - Atikokan ON
2010 - Water Mark - trio printmaking exhibition - Gallery Stratford - Stratford ON
2009 - Lakehead Visual Arts - annual group exhibition (ongoing since 1984) - Thunder Bay ON
2008 - Definitely Superior Gallery - 20th Anniversary Members show (juried) - Thunder Bay ON
2008 - Ottawa School of Art - Biennial Miniature Print Invitational - Ottawa ON
2008 - International Miniature Print Exhibition - Grafisk Vaerksted Print Studio - Naestved, Denmark
2007 - Definitely Superior Gallery - Change (regional juried exhibition) - Thunder Bay ON
2006 - Thunder Bay Art Gallery - Thirty Points of light (curators selection juried exhibition) - Thunder Bay ON
2006 - Definitely Superior Gallery - Contact (regional juried exhibition) - Thunder Bay ON
2004 - Thunder Bay Art Gallery - Art for All (regional exhibition) - Thunder Bay ON
1992 - Emergence/See – Definitely Superior and Marina Gallery - organizer/participant - Thunder Bay
1991 - Emergence/See – Definitely Superior and Marina Gallery - organizer/participant - Thunder Bay
1989 - Jonathon Bancroft Snell - private exhibition and sale - London ON (solo)
1984 - Thunder Bay Art Gallery - Art Affairs North (regional juried exhibition) – Thunder Bay ON
1983 - St. Joseph's Heritage - Art Happening (regional exhibition) - Thunder Bay ON
1982 - St. Joseph's Heritage - Art Happening (regional exhibition) - Thunder Bay ON
1982 - Canadian Lakehead Exhibition (juried) - Thunder Bay ON
Awards/Honours
2013 - Quetico Foundation Artist in Residence - September
2013 - Ontario Arts Council Artist in education residency grant
2012 - Ontario Arts Council Northern Arts new works grant
2011 - Ontario Arts Council - Artist in Education grant
2008 - Ontario Arts Council - Emerging Artist grant, Northern Arts grant, Artist in Education grant
1984 - honourable mention - Art Affairs North (juried)- Thunder Bay Art Gallery
1982 - first place award in drawing category - Canadian Lakehead Exhibition - Thunder Bay ON
Reviews
2012 - Superior Outdoors Magazine - Summer 2012 Arts section - Artist profile
2010 - Chronicle Journal - Review by Jolene Davis - Wilderness solo exhibition - Pictograph Gallery
1995 - Thunder Bay window Explorer - Regional Arts Review by Doug Livingstone
Professional Activities/Arts Educator
May 2017 Independently funded art educator St. Brigid School Nakina ON grades 2 - 8
Oct 2016 - May 2017 OAC Artists in Communities and schools - Five Mile School, Westmount Public, Vance Chapman Public and Holy Cross Thunder Bay, ON various project approaches
Nov/Dec 2015 Art Educator (independently funded by school board for total of 16 hrs) St. Bernard Elementary Thunder Bay
Jan-June 2015 - OAC Artist in Education - St. Margaret, St. Elizabeth, Hyde Park Public School, St. James P.S. Thunder Bay - 25 hr placements
Nov-Dec 2014 - OAC Artist in Education St. Bernard Jr. Catholic Elementary School, Thunder Bay - 25 hr placement with printmaking and mix media based projects with grades 1, 3, 5 and 6
April 2014 - CAHEP Artist in the 5th, St. Bernard Jr. Catholic Elementary School, Thunder Bay - drypoint on acrylic plate grade 5
October 2013 - May 2014 OAC Artist in Education, St. Martin Jr. Catholic Elementary School, Thunder Bay - artist residency grades 1 - 6
September 2013 - Art workshop Quetico Provincial Park, Atikokan ON - drypoint on acrylic plate (adult workshop)
August 2013 - Baggage Building Arts Centre, Thunder Bay - relief block and screen printing for youth
May 2013 - CAHEP Sir Winston Churchill CVI, Thunder Bay - War of 1812 relief block print project Gr. 7
April 2013 - Open Roads Community School, Dryden ON - grade 5/6 drypoint on acrylic plate project (2 days)
March 2013 - Baggage Building Art Centre, Thunder Bay - adult workshop drypoint acrylic plate
January 2013 - OAC Artist in Education - St. Martin Jr. Elementary School, Thunder Bay 25 hour jigsaw block relief printmaking project grade 3
October 2012 - OAC Artist in Education - St. Bernard Jr. Elementary School, Thunder Bay 25 hour jigsaw block relief printmaking project grades 5 & 6
June 2012 - Arts Hub, Kenora Community Living Assoc., Kenora ON - collagraph and drypoint printmaking adult workshop
May 2012 - Thunder Bay Art Gallery, Thunder Bay - collagraph printmaking adult workshop
April-May 2012 - OAC Artist in Education, Pope John Paul Sr. Elementary School, Thunder Bay - 25 hour relief printmaking with three grade 7 art classes
Jan 2012 - Thunder Bay Art Gallery, Thunder Bay - block printing adult workshop
Jan 2012 - CAHEP Artist in the 5th, Corpus Christi School, Thunder Bay - hand coloured blockprints and collagraph prints with grade 5
Dec. 2011 - OAC Artist in Education - St. Martin's Elementary School, Thunder Bay - 25 hour relief printmaking project with Grades 4/6
Sept 2011 - OAC Artist in Education - North Star Community School, Atikokan, ON - 50 hours jigsaw relief printmaking with Grades 3,4 & 5
March 2011 - Thunder Bay Family Services - Ogden Community School, Thunder Bay - single session printmaking workshop with special needs clients (youth)
December 2010 - CAHEP Artist in the fifth - Corpus Christi School, Thunder Bay - relief block printmaking with grade 5
December 2010 - CAHEP Artist in the fifth - St. Ann Jr. Elementary school, Thunder Bay - relief block printmaking with grade 5
June 2010 - Pictograph Gallery Atikokan ON - weekend adult workshop in relief block printmaking
Feb 2010 - RBC/CAHEP After school project - Corpus Christi School, Thunder Bay - jigsaw relief based printmaking with grades 3-6
December 2009 - RBC/CAHEP After school project - Algonquin School, Thunder Bay = jigsaw relief based printmaking with grades 3-6
December 2009 - CAHEP Artist in the fifth - St. Ann School, Thunder Bay - collagraph printmaking with grade 5 students
May 2009 - OAC Artist in Education - Red Rock Public/St. Hilary Catholic School, Red Rock ON - 25 hour relief printmaking project Connections: Influence of the group of seven. Grades 6-8
April 2009 - RBC/CAHEP After School project - Corpus Christi School, Thunder Bay - clay relief paintings special learners grade 3-6
February 2009 - Crestview Public School Murillo ON - relief printmaking workshop for grades 1-5
February 2008 - CAHEP Artist in the Fifth - Corpus Christi School, Thunder Bay - relief print mosaic murals with grade 5
January 2008 - RBC/CAHEP After School project - St. Paul Catholic School collagraph printmaking with special needs youth
May 2007 - CAHEP/RBC After School Program - Ogden Community School - relief printmaking with special needs youth
January 2007 - Lakehead Unitarian Fellowship, Thunder Bay - all ages workshop printmaking on t-shirts
January 2007 - St. Elizabeth Jr. Catholic Elementary School, Thunder Bay - styrofoam block printing project with grades 4,5 & 6
October 2006 - Painted Turtle/Rainge Gallery, Thunder Bay -intaglio printmaking adult workshop
March 2006 - GrannArt Centre for the Arts, Thunder Bay - workshop all ages in block relief printing
January 2006 - CAHEP Artists in the fifth - Corpus Christi Jr. Elementary School, Thunder Bay - jigsaw block printing project with grade 5
September 2005 - Painted Turtle/ Rainge Gallery, Thunder Bay - block printing adult workshop
July 2005 - Art in the Park (Definitely Superior Gallery/ Ontario Parks event) - Sleeping Giant Provincial Park - all ages workshop in styrofoam block printing
April 2005 - Painted Turtle/ Rainge Gallery, Thunder Bay - screen printing adult workshop
Feb 2005 - St. Bernard Jr. Elementary School, Thunder Bay - styrofoam printmaking with grade 2