Brian Holden
printmaker and visual artist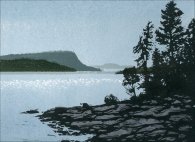 Brian Holden Links
For an understanding of the creative process, and images of works in progress, visit my blog at My Printmaking Journey.
You can find information about techniques at The Art of Printmaking.
You can view more of my earlier work at my archive website.
You can view and purchase some recent hand-printed work in my shop on Etsy at Borealart.
To purchase prints found on this site, please contact me by e-mail.
Links to Other Sites