Brian Holden
printmaker and visual artist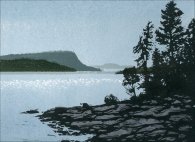 Welcome to the web site of Brian Holden, printmaker, visual artist and arts educator.
For an understanding of the creative process, and images of works in progress,
visit my blog at My Printmaking Journey.
You can find information about techniques at The Art of Printmaking.
You can view and purchase some recent hand-printed work in my shop on Etsy at Borealart.
To purchase prints found on this site, please contact me by e-mail.
Artist Statement
You can read my Artist Statement here.
UPCOMING in Atikokan June 10 to July 22, 2017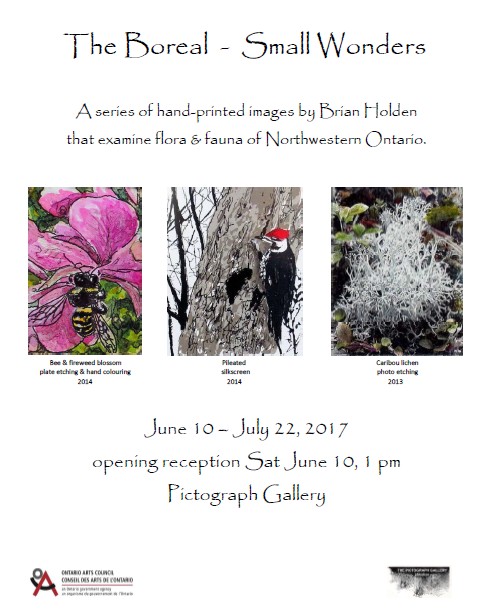 The Boreal - Small Wonders
A series of hand-printed images by Brian Holden that examine flora & fauna of Northwestern Ontario.
June 10 to July 22, 2017 opening reception Sat June 10, 1 pm
Pictograph Gallery, Atikokan. You can find the poster for the show here.
NEW WORK - on display at Thunder Bay Art Gallery as part of
THE PERSPECTIVE FROM HERE: 150 ARTISTS FROM THE NORTH - until September 24, 2017

title: Lake Superior Shoreline, Marathon
dimensions: image size 14 cm x 54.5 cm, paper size 26.5 cm x 64.5 cm
date: 2017 medium: Collagraph with hand colouring
Some of my newer series of miniature print based studies and cards are available at:
Baggage Building Arts Centre
Prince Arthur's Landing, Thunder Bay, ON
Hours: Tues - Fri 11-5, Sat-Sun 12-4

Some of my miniatures and cards are on display at the Baggage Building Arts Centre, and some works and cards are available at Fireweed, 182 S. Algoma St. in Thunder Bay.

To visit the Gallery pages, click the "GALLERIES" link.