Welcome...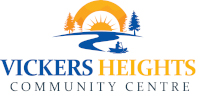 Vickers Heights Community Centre is located on the South side of Thunder Bay, 1½ Kilometers or one Mile from the "Expressway" (Highway 61).
The center is in a park setting, ideal for picnics, with a Childrens' Playground, Baseball Diamond and areas suitable for Soccer and Volleyball.
During the winter months the Centre features a boarded Hockey rink as well as an unboarded Skating rink. Heated change facilities with wash rooms are available during supervised skating periods.
The quiet park setting, with ample parking, makes the Centre a positive atmosphere to hold Workshops, Training sessions, Conferences, or "Town Hall" meetings. The Centre is handicap accessible.
The Centre features a 40 x 40 foot hall, a full kitchen for catering everything from coffee breaks to full meals, and a beverage serving area complete with fridge, sink, and glasses.
With the hall capacity of 135 for supper, with space for dancing, the Community Centre is ideal for hosting small and medium sized Family Reunions, Socials, Wedding Receptions or Bridal Showers.