---
Richard Pepper's
July/Aug. 2007

---
Some MP3s of my (& the Transparencies') music
---
Thunder Bay Anglican Youth Ministry
---
Youth Ministry Facilitator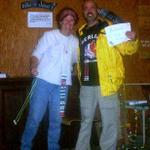 Click the pic of my receiving my log for Junior Week pix.
(I was Recreation Director and led some of the music.)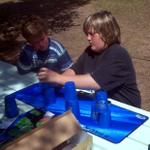 Click the Speed Stacker for Senior Week pix.
(I co-directed with Karol MacLean and led games, music and archery.)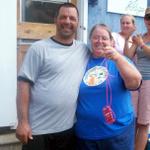 Click Dean Barker receiving his logs for Intermediate Week pix.
I helped with music and taught archery.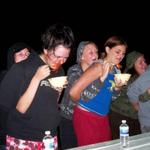 Click the messy eaters for pix of the Teens Retreat in August.
(I wasn't actually at that weekend, however.)
Yes, I know that the "07" is upside-down.
Summer 2007's Secret Pal Gifts
---
Youth Synod
(at Camp Manitou) Aug. 3 - 8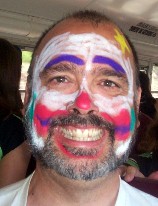 I was a chaperone, cabin leader and clown.
---
St. Thomas

Parish Camp Out
at
Camp Gitchigomee
Aug. 31 - Sept. 2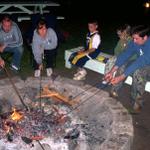 Click the wienies for pix.
Note: My work at Camp Gitchigomee and at Youth Synod were also conducted in my capacity as youthworker for St. Thomas, as well as in my Deanery Youth Ministry Facilitator role.
---
Round Lake Bible Camp
Junior Boys
July 29 - Aug. 1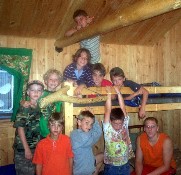 Click the Brookmount Boys for an album of pix.
Usually, each week at Camp Gitchigomee I would visit Round Lake Bible Camp just a few k back up Hwy 588, since I have known the directors, Mark and Christy Arnold for many years, just to swap camp stories. The last week of July Mark asked me if I might be available to lead a cabin the next week, because he'd had a staff cancellation. Since I wasn't leaving for Youth Synod until the Friday morning, I was able to be at RLBC from Sunday to Wednesday evening.

Round Lake is a very nice and relatively inexpensive place to rent for a winter retreat and so I have been there before for LUCF and DYU retreats, but never for actual summer camp. I was very happy to have this opportunity to see how they do things.
---
Manitoba Pioneer Camp
End of Classic Boys One
and All of
Classic Boys Two
Aug. 9-24


Skip past long MPC entry (& read it later).

Index of all my Boys Camps at MPC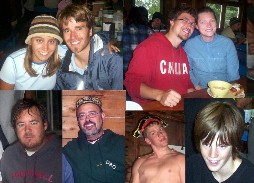 Collage of Thunder Bay Area &/or Lakehead U. people serving at MPC in '07:
Stephanie & Mike, Matt & Erin, Brent, RP, Noah and Matthew (camper).
Click the above pic for a larger version.
Thu. Aug. 9:
Left Thunder Bay c. 1100h. Gassed up in Dryden. Arrived at Shoal Lake Landing c. 1630h (local time).
Arrived at Manitoba Pioneer Camp in time for Boys One Banquet Supper (turkey etc.) (Nautical theme).
Moved into Cabin 7 with Iceman, Obelix, Gallump and a pile of Inukshuk's clothes. Because I was still feeling an hour ahead, I didn't attend the Candlelight service, but went to bed c. 2200h (local time).
Fri. Aug. 10:
Big thunderstorm over night. We lost our phone and Internet access for several days.
Up at 0700h and so I attended the staff mtg.
Breakfast: Cereal & cinnamon buns. "Cereal" almost always means that both hot and cold were served, but I ate porridge almost exclusively.
While Boys Camp One packed up and prepared to leave, I organized my receipts from the last month in my cabin and then took the group photo for them.
After Lunch (sandwiches), the campers left. Then I helped clean the Dining Hall.
Debrief time with the Boys 1 staff (featuring nachos), followed by a snooze.
After Supper (leftovers), I washed pots with Tesla.
Evening: Jammed in Bill Mason Place with Inukshuk, Dewey, Hydro & Flip, including "Don't Think Twice" (Dylan), "My Old Friend the Blues" (Earle), "This Wheel's On Fire" (Dylan/Danko), "Helter Skelter" (Lennon/McCartney), "I'm Gonna Be" (Proclaimers), "All I Want is You" (U2) and "Hallelujah" (Cohen).
| 1 | 2 |
Bed: c. 2230h.
Sat. Aug. 11: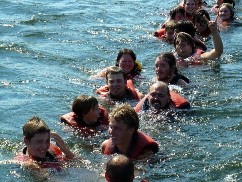 Up at 0830h.
Breakfast: Cereal, hard-boiled eggs & cinnamon buns. Helped clean the Dining Hall again.

1100h Worship Time. We held worship on Saturday, because many of the women were leaving later that day for their session on Cash Island.

Lunch: Tacos.
Afternoon: Cruise on the Pioneer III (the PIII), including swimming near a rope near the boat.

Supper: Macaroni salad, other salads and mashed potatoes.
Evening: Went sailing with Casco. After capsizing, I was unable to crawl back into the boat. Rescued by Hydro, Flip and Inukshuk in another boat.

Drifter took several of us in the PIII over to Shoal Lake First Nation for the annual Pow Wow. Ate a bannock burger and watched the Iron Wo/Man Dance-off. Due to its ceremonial nature, I didn't take pictures of the actual event.
Back to MPC.

Bed: 2330h.

Sun. Aug. 12:
Up 0800h. Breakfast wasn't until 0900h again and so Casco, Napkins, an unidentified Boys One staff member and I sang in the Staff Kitchen.
Breakfast: Cereal, scrambled eggs and "hashed whites".
Did pots with Dewey. Then hung out with Sam, including playing Squares on the sidewalk.

Lunch: Soup & salad.

Afternoon: Boys Two Staff Meeting, led by Boys Camp Director, Koubie. (Note that Thaddeus was functioning as Assistant Boys Camp Director.) I was the Senior Section Head and, as such, met with my Section following the meeting of the whole. Then I read and rested in #7.

Supper: Chili.
Evening: Servant of Servants (SOS) meeting, i.e. the Director, Assistant Director, Programme Director (Ninja), Section Heads and Canoeing Director (Buck-O). Kermit was the Intermediate Section Head. Piper had that role for the Juniors, but was unable to arrive until partway through the session.

Jammed in Bill Mason Place with Zimmer. We played some of our songs for each other, including Don't Be Afraid, Monsters in the Sky, In Heaven There'll Only Bae Bagpipes, Little One and Salome.
Bed: 2330h.

Boys Classic Camp Two 2007
Motto: Strength and Hono(u)r!
(or "Strength and Conor", as I would say when a certain camper came to mind.)

Mon. Aug. 13: Day One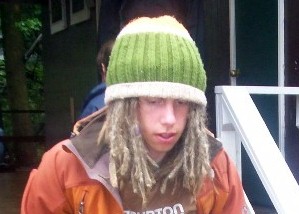 Click Buck-O to see how much he enjoyed Royal Roll this session.
Up at 0800h. Starting this day and for about a week, like many of the staff, I was fighting a head cold.
Breakfast: Cereal.
After breakfast we had a program staff meeting. More cleaning followed, but I went with Thaddeus and Buck-O to pick up the campers at the landing.
Camp Arrival: | "Where is everybody?" | They burst out of hiding. |
Lunch: Sub sandwiches. Ninja and Tesla led us in "Sons of the Sea", followed by the Scraper Skit
Afternoon: The cabin groups rotated through various stations such as meeting with the Nurse. Each of the Senior Cabins met with me to talk about the rules.
Thus this year I didn't have time to swim my "200's" in order to qualify for PFD-free-swimming in the deep end (indicated by a 200's bracelet). However, the waterfront staff said that I was entitled to one in consideration of my little swimming adventure out in the bay Saturday evening.(In the pic of my 200's bracelet, note my Croc tan, contrasted with last year's sandal tan.)
Supper: Pizza.
I "hosted" suppers, meaning I would give any special instructions about the food, lead giving thanks and start off the announcements afterwards, turning them over to Ninja. As well, I would man the "Hobart" window and ensure that people didn't try and sneak unscraped plates into the Hobart dishwasher.
Evening Program ("EP"): Royal Roll. (During this I photocopied the Cabin Contracts we'd prepared in the afternoon and then worked on my Gandalf beard.) Evening Dip.
Snack: followed by Lights-Out Cabin Patrol of the Senior Section (usually not difficult).
Then I made a silver Gandalf scarf of duct tape.
Bed: c. 2300h.
Tue. Aug. 14: Day Two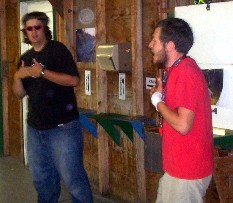 The Shark Song
Up at 0645h. Normally this meant going down to the Dining Hall for coffee, then returning to the cabin line to ensure that my cabin leaders were awake.
Staff Mtg 0715h
Breakfast: Cereal & pancakes. Debuted in my role as Gandalf in the skits based on The Hobbit. After each scene Thad, Koubie or Dank-laas would give a brief Table Talk.
Servants of Servants (SOS) Mtg: (Directors, Section Directors, Program and Canoeing Directors) in the Kuskisew.
Skills 1 Time: Participated as a student in Canoeing class.
Bible Discovery: Patrolled cabin area.
Skills 2: Off.
Lunch: Burgers. Kermit and Napkins led us in "The Shark Song" and "Allouette".
Rest Hour: Prepped for Trip Meetings.
Tracks: Trip meeting with #4 assisted by Thaddeus.
Free Swim: Trip meeting with #2.
Clubs: Participated in Inukshuk's Bocce Club in the playing field.
Supper: Chicken.
Boats Out: Trip meeting with #5.
Sectional Evening: The Senior Section played Ultimate in the playing field.

Evening Dip, Snack, Cabin Patrol
Bed: 2330h.
Wed. Aug. 15: Day Three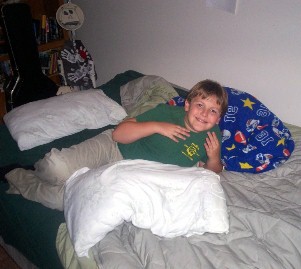 In Keewatin: Haaken and Liam (wearing Invisibility Cloak)
Up at 0645h. for Staff Mtg 0715h: Led the "Daily Nugget" on Romans 13.
Breakfast: Cereal, hard-boiled eggs, muffins.
SOS Mtg
Morning Along with Koubie, dealt with discipline issue. Saw off Cabin #4. Had coffee with Drifter.
Lunch: Soup & sandwiches.
Rest Hour: Saw cabins 2 and 5 off on their canoe trips.
Then Thad drove me (along with other staff) to the Landing for my Half Day. Drove to Baileys' place in Keewatin. Checked my email and bank account.
Supper: Steak with the Baileys and my nephews Greg and Douglas.
Watched "The Goblet of Fire" and "The Prisoner of Azkaban".
Bed: 0015h.
Thu. Aug. 16: Day Four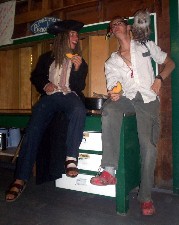 Buck-Oneers enjoying booty.

Up at0800h.
Morning: Breakfast followed by coffee with Eric and Erica. Drove to Kenora Wal*Mart for snacks requested by a cabin leader.
Tried to get donuts from Tim's for SOS meetings, but the line-up was too long. Back in Keewatin got brownies instead.
Back to Shoal Lake Landing. Helped Matt Penner fill gas cans. Back to MPC.

Lunch: Pasta. "Helped" Pumba lead "The Big Rig Song".

Rest Hour: Rested.
Tracks: Okay, I guess I rested then too.
Free swim: Manned the Buddy Checker desk. Staff member engaging camper.

Supper: Chicken Enchiladas.
Boats Out: Supervised Cabin #14.
EP: Buccaneers
Skipped Snack to get to bed early (since the Senior Cabins were all on trip).
Bed: 2130h!!

Fri. Aug. 17: Day Five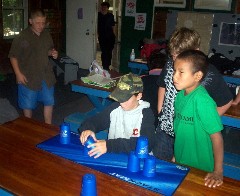 Speed Stacks go with me everywhere.

Up at 0645h for Staff Mtg 0715h.
Breakfast: Cereal, hard-boiled eggs & biscuits.

SOS Mtg featuring two-bite brownies from Keewatin.
Skills 1: Worked on Bible Discovery for Seniors on Kermit's computer.
Bible Discovery: Led music for Intermediates.
Skills 2: Checked email and did more Bible Discovery prep.

Lunch: Grilled cheese sandwiches & tomato soup.

Rest Hour & Tracks: Rested.
Free swim: Buddy checked.
Clubs: Led "Chill with Peps" featuring Speed Stacking, Table Tennis, Pass the Pigs and my Horseshoe Puzzle.
Afterwards, I joked that I changed a camper's (Dylan) life by teaching him "Smoke on the Water" in the proper key (G).

Supper: Perogies, sausages & vegetables.

Boats Out: Prepped for Song and Stories.
EP: "Markers" and "Bounty Hunters".
Snack followed by Songs and Stories: Led four songs, followed by Crabbe's (or Danklaas) telling of "The Five Orphans".
Bed: 2230h.

Sat. Aug. 18: Day Six

Up at 0645h for Staff Mtg 0715h.
Breakfast: Cereal, scrambled eggs, hashed browns, hard-boiled eggs.

SOS Mtg
Skills 1: Worked on Senior Bible Discoveries.
Bible Discovery: Led songs with Temp and Casco for Intermediates.
Skills2: Discussed discipline with Kermit, Thad and Koubie.

Lunch: Hot dogs. Inukshuk led "Little Cabin in the Woods".
Flip and Inukshuk, as the wrestling brothers, challenged the campers to a rumble during Free Swim.

Rest Hour: Rested.
Scraper Olympics: Led the Speed Stacking station.
Free Swim: Buddy checked again.

Supper: Stir fry.

Boats Out: Worked on allergy list for kitchen (overdue. Sorry).
EP: Campers retrieve various objects hidden on their opponents' territory, including a cabin leader.
Snack followed by Cabin Patrol
Bed: ??h. Piper arrived this evening to be Junior Section Head and became my cabinmate in #7.
The last time Piper and I shared a cabin: 1976 at Dorion Bible Camp.

Sun. Aug. 19: Day Seven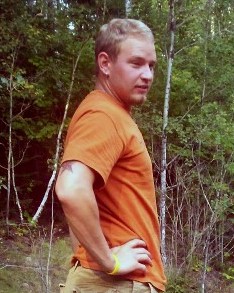 A great leader stands on the shoulders of giants.

Up at 0715h: (Sunday is a sleep-in day.)
Staff Mtg: (0745h)

Breakfast: After breakfast the Senior canoe trips returned.

SOS Mtg: Set up for chapel instead.
Chapel (1100h): Led many songs with Koubie and Iron. Hobbit skit (Meeting Beorn) and writing to God on a big sheet of paper.


Lunch: Soup & sandwiches. Photographed "the French Family" before they left.
The nurse for the 2nd week was Dr. Pam "Spruce" Poulter-Friesen again. We had been friends in 1981 | 1982 | 1983 |.

Rest Hour: Rested.
Tracks: More work on Bible stuff.
Boys Camp Challenge: Tug of Wars
| Cabin 8 | Cabin 2 | Buck-O vs. a Crate & a Croc | The Outcome |

Supper: Sloppy Joes.

Boats Out: Stalked deer with camera with campers (unsuccessfully).
EP: "Phobia" (Campers have to find and bring staff to "doctor". Staff have misc. phobias, such as fear of short people, which the campers must find a way to overcome. My phobia was of anyone not wearing Crocs. Juke the Doctor was a fellow Crocodilian and, though he agreed that our faith teaches us to take up our Crocs daily and follow Him, he persuaded me that I don't need to fear those whose beliefs differ from mine. Piper was listening in and declared our whole religion to be a crock.
Snack followed by playing Babaluki (card game) in #2.
Bed: 2300h.

Mon. Aug. 20: Day Eight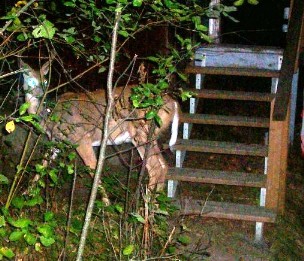 What I saw by #8 when I got up early to go to the biffy.
Another version
Up at 0645h for Staff Mtg 0715h.
Breakfast: Cereal, French Toast & sausages.
SOS Mtg
Skills1: Rejoined canoeing now that the Seniors were back. Canoed with Hiroki (exchange student from Japan).
Bible Discovery: Sat in with #5.
Skills2: Off. Checked email.
Lunch: Tacos. "By the Light of the Silvery Moon" led by Piper and Son.
Rest Hour: Patrolled cabin area.
Tracks: Read.
Free Swim: Cabin #2 Trip Debrief assisted by Koubie.
Clubs: Cabin #4 Trip Debrief assisted by Thaddeus.
Supper: Pizza.
Boats Out: Prepped music for Songs and Stories.
EP: Royal Roll. I set up BMO for S&S.
Songs and Stories: Led singing and sang my song "Integrity". Thad told the story of Josh the Prodigal.
Snack followed by (for the Seniors) games in the Fireside Room led by Ledge, including Karaoke Kards. High card or Joker has to sing a song. This night because Cap'n was on Half Day, I slept in #5.
Bed: 2300h.
Tue. Aug. 21: Day Nine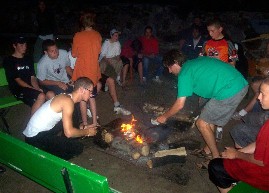 Ninja and Juke tend the fire.
Up at 0645h for Staff Mtg 0715h.
Breakfast: Cereal, biscuits & various breakfast leftovers.

SOS Mtg
Skills1: Canoeing with Hiroki.
Bible Discovery: Sat in with #2.
Skills2: Off. Read.
Lunch: Sandwiches. Ledge (and Zimmer) led The Meatball Song.
Rest Hour: Trip Debrief with #5.
Tracks: Worked on Bible Discovery.
Free Swim: Rested.
Clubs: Visited Ninja's Drawing Club and Juke's Story Club.

Supper: Chicken and rice.
Boats Out: Practised guitar in BMP for campfire.
EP: Markers.
Evening Dip: I joined in.
Snack at Seniors Campfire: Partway through we let them go to the Fireside Room for games if they wanted. Only Matthew from Thunder Bay stayed behind and played djembe with Zimmer and me as we sang songs for each other again, including "I Still Haven't Found What I'm Looking For" (U2), "Hallelujah" (Cohen) and "Peter Hart" (Pepper).
Bed: 2330h.
Wed. Aug. 22: Day Ten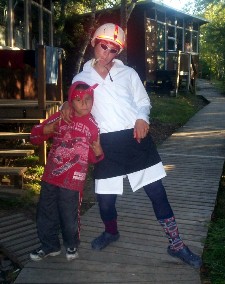 Christian and Shamu on the way to Trip Reports Night.
Up at 0645h for Staff Mtg 0715h.
Breakfast: Cereal, pancakes, sausages and scrambled eggs.
SOS Mtg
Skills1: Canoeing with Matthew.
Bible: Dealt with a disciplinary matter.
Skills2: Off.
Lunch: Pizza bagels and soup.
Rest Hour: Rested.
Tracks: Backed up jpgs on Thad's computer.
Free Swim: Watched.
Trip Report Planning: Debrief with Zimmer.
Supper: Spaghetti.
Trip Report Skit Planning: .
Trip Report Skits in BMP including Ledge as the gameshow host and as the American who tried to give them beer and the usual cross-dressing and Inukshuk as an earnest supply teacher. Cabin 8

Snack: followed by extended Cabin Patrol dealing with a disciplinary matter, along with Thad and Danklaas.
Bed: Midnight?
Thu. Aug. 23: Day Eleven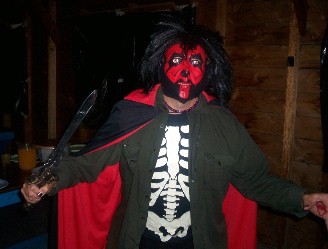 Who would steal a sword from such a nice-looking goblin (orc) as this?

Up at 0645h for Staff Mtg 0715h.

Breakfast: Cereal and pancakes.

SOS Mtg: Ninja's Box Wars helmet.
Skills1: Canoeing with Matthew.
Level Completion Day: Had my one-on-one debrief with Thad.


Lunch: I forget what we had for lunch but we had Jello for dessert.

Rest Hour: Rested.
Afternoon: Conducted one-on-ones with the Senior Section Cabin Leaders. Prepped my Banquet costume (see above).

Supper: Turkey, potatoes etc. The theme was The Hobbit.
| Shamu the Soldier | Balin and the Sani-Foam | Uruk-Hai (Ok so that's LOTR) |

Awards: (down by the bay). I was awarded my Junior Tandem Canoeing Level
Snack: Each cabin received a different snack according to their ranking in Cabin Cleanup. Cabin 2 (Ledge, Xavier & Zimmer) were the winners.
Candlelight Service: Inside BMP. This was an opportunity for any of us to light one of the tea lights in a cross-shaped pattern and speak about our time at camp.
Senior Camper extended Candlelight: I sang Dylan's "I'll Remember You".
Bed: 2330h.

Fri. Aug. 24: Day Twelve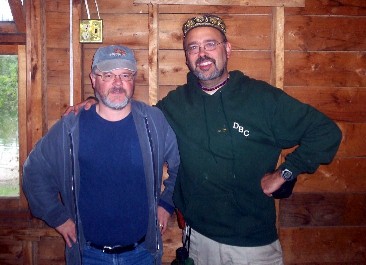 "DBC? What's that, eh, Bob?"
Up at 0630h. Took most of my stuff to the back dock.
Staff Mtg 0715h
Breakfast: Cereal, hard-boiled eggs and muffins.
A few final photos: | Obelix, Juke & Chance | Iron & Captain | Matt & Erin | Shamu & Zimmer | Crabbe (Danklaas) & Napkins |
Driven to the landing by Matt MacFarlane. Left c. 1000h CDST.
Drove home (stopping for gas in Dryden and coffee at the Upsala Beaver Post) and then out to Church of Christ Family Camp at Duncan Memorial Camp at Loon Lake.
---
Northwood Park Church of Christ
---
Family Camp
Aug. 24-26
at
Duncan Memorial Camp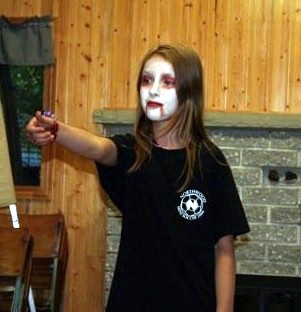 Click the little vampire
to see more pix of this event.
---
Now go back and at least skim my MPC section (please).
---
Some MP3s of my (& the Transparencies') music
---
Back to top.
---