Most of the following picture or text links take you to a Blog entry with more pictures.
Music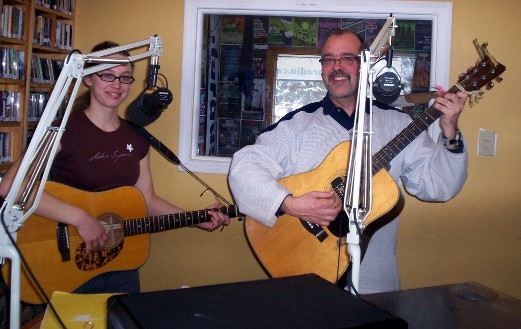 Singing w Ruth Bjorkman on LU Radio: Jan. 24
Background to this & last year's videos with Ruth
Get Thee Behind Me: Jan. 26
Power In the Blood: Feb. 17
Last Feb.'s videos:
Singing at Grandview Lodge: Jan. 27
Camp Dorion songs at Carla Norman's 30th Birthday: Feb. 11
Asta Isaksen's Funeral: Mar. 5
The Transparencies @ John Howard: Mar. 12
"Well-Done" Coffee House: April 3
Marianne Jones' Poetry Reading: April 5
Meeting Bruce Cockburn: April 6
Hot R Bun @ Pinewood Court: April 22
Dorion Bible Camp 65th Anniversary Talent Show
Coffee House with Noah Cain: Sept. 25
Open Mike @ The Study: Sept. 28
Open Mike @ The Study: Oct. 26
CPR Holiday Train featuring Valdy: Dec. 2
Performance Backed by The Usual Suspects: Dec. 4/11
---
My Newest Songs
I Want Two of Everything: May 28
If that's not the right video click here.
Empty Places: June 2
It Will Be Wonderful: Sept. 26
Cover Songs For the Tribehouse Collective
Don't Take Your Guns to Town (Johnny Cash): April 30
For No One (Beatles): June 19
Fixing a Hole (Beatles): June 19
More Hymns
Trust and Obey: Aug. 24
God Be With You 'Til We Meet Again: Aug. 24
It Is No Secret: Aug. 29
God Is Our Refuge: Aug. 29
I don't sing it quite correctly in one spot.
New Old Songs (1983)
(Including Bob Dorion parodies)
Stories Behind Christmas Carols
My ongoing project to provide chords for Christmas carols