We are a small kennel located in Thunder Bay, which is situated on the shores of Lake Superior in Northwestern Ontario, surrounded by inland lakes and rivers. We enjoy all four seasons with our dogs and try to take advantage of all the canine activities available to us. These include conformation dog shows, snowmobiling, sledding, and hiking. We share our home with our dogs, and we share our hearts with those who have passed on over the Rainbow Bridge.
In my opinion, Alaskan Malamutes are the greatest dogs but, as with any breed, they are not for everyone. Please do your research before purchasing a puppy. Talk with breeders, visit the library, go to a local dog show and ask questions! Find out the pros and cons ... and yes, they do have cons, although my dogs will only admit to one or two!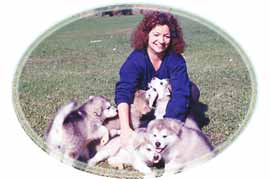 While we don't have a litter every year, we strive for type, soundness, and temperament when we do a breeding. All breeding stock has been cleared for hip dysplasia and chondrodysplasia (CHD), and have their eyes certified annually (CERF).
We are members of the Alaskan Malamute Club of Canada, the Alaskan Malamute Club of America and the Alaskan Malamute H.E.L.P. League (Rescue Organization). We are also Charter members of the Northwestern Ontario Working Dog Association (NOWDA). This local club was established in 1997 to promote the breeds in the working group.
We hope that you enjoy your visit. If you have any questions, please feel free to contact us by emailing us at tundra@tbaytel.net.
- Pam & Ken Kovac, Thunder Bay, Ontario, Canada