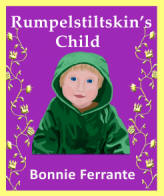 Blurb
Second edition. What if Rumpelstiltskin had a bum rap? Sure, he tried to take the queen's baby, but a deal is a deal. Besides, he even gave her the opportunity to renege on their agreement. Plus, he never sought revenge, but allowed her to live happily ever after. Maybe there's a whole lot more to his story than people know. The elaborate illustrations are inspired by the illuminated manuscripts of medieval times. The reading level is third grade and up but younger children will enjoy hearing the dramatic, humorous, and touching story. A book for all ages that is sure to generate discussion.
This book portrays the part of the fairy tale that many may wish had been written a long time ago. It paints the impish little man in a much more positive light than he was characterized in the short story written by the Brothers Grimm. Thankfully, in this new improved version, along with his magical skills, he is possessed of a much more peaceful personality. The Rumpelstiltskin who tore himself apart in a rage at the end of that old tale does not exist in this one.

Rumply, as he is known to the people in his village is a thoughtful and kind soul. Unfortunately, no one but the children are truly aware of this. The adults, in their greed for the gold that Rumpelstiltskin is able to enrich their lives with through his spinning, treat him callously and are most unkind. With little hope for happiness there, the forsaken man leaves the village, heartbroken.



As in the original fairy tale, he meets a young woman who is doomed to die if she cannot turn a pile of straw into gold before morning. He spins the gold for her, requesting her first born child as payment. After the child is born and withheld from him, rather than stamping his feet and tearing himself apart, events conspire to send him back to the village where he grew up. Back there, his world so drastically changes that it will put a lump in your throat and joy in your heart.

Bonnie's use of bright colours and gold etchings and borders evoke the feel of elaborate fairy tale illustrations from the days of the original story. This is a great little story to read aloud and then to contemplate answers to questions like "How does exclusion change people" and "Why is forgiveness important". I'm all for books with positive messages and this one has plenty.

Wonderful story line that helped my grandson learn a valuable lesson followed by classic illustrations. The author took me back with a little twist. Great read.


Rumpelstiltskin's Child is a lovely story that could stand in for the Grimm's fairy tale version of Rumpelstiltskin quite well – in fact it is an improvement in many ways...
four stars based on it being a nice story with nice illustrations overall (my nitpicking aside) and for the positive messages contained within.
Sample Pictures from Rumpelstitlskin's Child