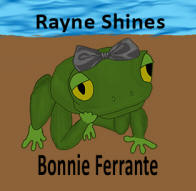 BLURB
Rayne is bored with life, until a new family moves in next door. Why do they look so happy? Rayne wants to know their secret. Rayne Shines is a humorous and thought-provoking picture book for ages 5-7.
Rayne Shines is such a cute book. I loved the cadence of the text, the colorful yet simple illustrations, and the book's message.



Ferrante uses just the right amount of words on each page to keep the pace perfect. The text doesn't rhyme, but because of the cadence to it, it doesn't need to rhyme to be engaging. I love it when children's book authors draw their own illustrations, and Ferrante's illustrations are perfect for the story...

The message was one of how your view on things, whether positive or negative affects everything in your life. I loved that there is character growth in this short book---something that's rare in children's literature.

Kaitlyn (age 3) enjoyed Rayne Shines too. She was very engaged in the story and when we finished reading the book, she told me how much she liked it.



Rayne Shines is a cute, fun book perfect for ages 3 and up. Kaitlyn and I both enjoyed this book and would definitely read Bonnie Ferrante again.

Today, we had the pleasure of reading Rayne Shines by Bonnie Ferrante. Rayne Shines follows a family who only finds the negatives in life. When a new carefree family moves in, Rayne notices the differences between her family and her happy neighbors.

This story is a great read because it teaches kids to look for the good in life and not get caught up in the bad. Otherwise, they will miss out on how wonderful life can be. In addition, Ms. Ferrante includes a list of discussion questions for parents to talk about with their children. Overall, we would recommend this book because this story has a great message and cute illustrations.

Rayne is a frog. She has two very unhappy and disgruntled parents who find fault with just about everything in life. .... As she and Rayne hang out more and more together Rayne emulates Sunny's temperament and finds the dark clouds that once enveloped her family dissipate and the whole frog family learns to laugh, dance, and play and be more loving towards each other. They are able to put a positive spin on their life around them which lifts them out of their grumpiness and criticalness and makes them realize that life is a bowl of juicy flies indeed.

Rayne Shines is a book with a hilarious twist on learning to count your blessings...

This is a great way to introduce to introduce any child (or even an older person) to positive thinking. Rayne Shine shows how much fun it isn't to hang out with people who do nothing but complain!

...

The book is simple and can deliver its message to even the youngest of readers. The illustrations were wonderful and matched the story well. I really enjoy looking at them as I read through the story.

The positive message in Rayne Shines make this book top shelf!

- Destiny's Book Dig Up

Rayne Shines

was a pleasant surprise, telling a "positive thinking" moral of relaxing the urge to preemptively judge experiences and letting oneself have fun via a story about a cynical frog whose character development is actually reasonably organic and gradual, given how short the story is. While I didn't enjoy the art style of the book, the story itself was rather cute and refreshing.
Cute story with a deeper meaning.



I love the way the author shows her audience how much negative comments (and negative thinking) can affect us all. She also reminds the reader that a little bit of positivity goes a long way. The art is fun and colorful and should be pleasing to young children.