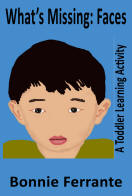 Available at: Amazon.com (kindle and paperback), Amazon.ca (kindle), Thunder Bay's Baggage Building Arts Centre - Gift Gallery at the Marina, First Impressions - Red Rock (print), Northern Woman's Bookstore - Thunder Bay, and from the author.
The first image a baby recognizes is the human face. This books helps them to examine and name the details. Help your child find out what's missing from each face with these fun pictures which range from simple to challenging.
What's the first thing toddlers use to learn about their surroundings? Their body, of course. And the face, in particular, with so many sense organs packed into it! And that's what makes Bonnie Ferrante's picture book 'What's Missing: Faces' so interesting.



With one part of the face missing on each page along with a simple explanation of why that part is important to us, it helps toddlers understand their own faces through a fun activity. And once she's done with human faces, the author has also included animal and bird faces, which is a great addition since it will encourage toddlers to compare their own features to that of animals they see. Overall, it is a simple book with illustrations that any toddler can immediately identify with. A great learning aid for toddlers around the world. I'll recommend it to anyone with 2-5 year olds at home.

What's Missing: Faces by Bonnie Ferrante is a charming activity book for toddlers. Featuring a diverse set of faces, both human and animal, with various missing parts, this picture book provides interactive learning opportunities for the child. In reading this book with their toddlers, parents and caregivers can help children learn about faces and the different features present there. This book also offers opportunities to compare animal to human features and to learn how each feature helps a person or animal function and interact with the world around them. The book closes with a page of follow-up activities the adult might complete with the child to enhance their learning. The artwork in this picture book is simple, but realistic and truly enhances the text.

I purchased this book for my 2-year-old grandson. He loves it and is learning, as well. I highly recommend this book to all mother's and grandmother's who have a toddler they love to read with.