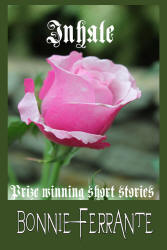 A Collection of Short Stories and Flash Fiction
Fred Stenson (shortlisted for Canada's Giller Prize, twice winner of the Grant MacEwan Author's Prize for best Alberta book of the year, nominated for the Governor General's Literary Award in Fiction, and nominee for the Commonwealth Writers Prize for Best Book) comments on Aberrations, a contest winner – "This author has exciting gifts… What a talent."

Stories of every aroma:

1. Sweet William – short story
2. The Colour Of. . . – flash fiction
3. Aberrations – short story
4. Inhale and God Approaches – flash fiction
5. Window Dressing – short story
6. Proactive – flash fiction
Some of these stories were previously published in anthologies and some were contest winners.
Sean Torres rated it 4 stars
Not much I can say about this book; the short stories (obviously ARE short) have a common trait with giving you displeasure during the story, but leaving a pleasing ending to each. Similarities with the aspects and characters allows you to connect them all together.
Nothing unique, but there was nothing bad about this story from a neutral point of view. From a personal view however, I did enjoy the reference with a wonderful film, "A street car named Desire", that I enjoy a lot, giving you an idea of the setting by time period. (less)
S.M. White rated it 3 stars
These stories will move you at times and at other times they'll make you to work to finish them, plumped up a bit in certain respects with too much filler. Ferrante does have a wonderful way with description and building an emotional line, but the short stories sometimes drift around, making you search for the main thread of the narrative. I did thoroughly enjoy the collection, even with their more depressive bent, but I felt there was a forced attempt at creating a more literary feel than was necessary. I want to say these are slices-of-life tales, but a few seemed a little too unbelievable. Regardless, they are very well-written stories that take a look at individuals whose tragic-turned lives give them a new outlook on the world around them (with the exception of the last story, which seems disconnected from all the others.)
Sample Pages
"Inhale, and God Approaches You."
~Krishnamacharya
It was Maya's first day at the cottage since the accident. The bicycle leaned against the shed door, front wheel turned backwards. The knots in her chest that made it difficult to breathe, twisted. Maya never wanted to see it again. She had asked her neighbour to take the bike.
Last spring, her nine year old son, Akshay, frustrated that they couldn't bring his BMX on the first trip, had ridden the too-large bicycle. Maya had been unpacking when her only child struck his bare head and died.
Akshay's rooms here and at home were unchanged. Maya had gone into his bedroom once. The sight of his baseball trophy had reduced her to dry, shuddering sobs, gasping for air, collapsed on the floor.
After unpacking, Maya poured a cold drink of water, and went out on the deck. A typed letter was tucked under a decorative stone on an Adirondack chair. The bicycle was gone.
The note explained that it would be given to Bicycles for Humanity. This charity would send it to Africa for those in need of transportation. Medical aid workers were then able to reach people suffering from AIDS. Women who lived too far from the market place were empowered by the ability to sell their wares. Children who lived too far from school could now attend.
Maya envisioned a hot, dusty savannah. She saw the hopeful faces of an AIDS infected family as a nurse arrived on bicycle. She saw the smile on a mother's face as she returned from a successful sale.
Akshay was a child who gave his allowance to Toys for Tots and raised money in the MS Readathon. Maya knew he would be happy the old bicycle was making a difference. She thought of Akshay's BMX gathering dust in the garage at home. Perhaps she could also donate her son's bike. She imagined the joy of a child now able to learn and experience new possibilities for his future. One of the knots in her chest untied.
She carried the letter to the kitchen and left it for her husband. Akshay's yellow raincoat still hung on a peg by the door above his black rubber boots. Some child somewhere could use those to keep dry and warm on a miserable day. She remembered Akshay's warm winter parka and the boy she had seen walking through blowing snow, clutching his thin jacket, the zipper probably broken. She thought of Akshay's ice skates and helmet, his baseball and bat, and all the other sports equipment, clothing, and toys that could make other children's lives a little better.
She could use the grocery boxes to pack what was here. Somewhere a mother was aching because she could not give her child what he wanted or needed. She would take her time to find exactly the right recipients. Maya gave a small smile and took a slow, full breath.
THE END