Education and All That
Teaching Experience:
1979-1981, 1985-2009: Taught at 10 different schools: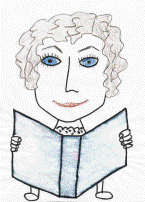 In a variety of positions:
SK to Grade 6 classroom teacher

Teacher-librarian - grades JK to 8

Resource - grades JK to 6

English to French Immersion - grades 2 to 4

Home Instruction for students unable to attend school – severe injury, school phobia, violent behavior
Volunteered for:
school leadership

school improvement

young authors

environmental kids club

drama club

chess club

computer club

keyboarding club

play days

overnight field trips

literacy days

charity fundraisers such as Jump Rope for Heart and M.S. Readathon

various school fundraisers

playground committee

school beautification

curriculum development

computer workshops for teachers

guiding student teachers

mentoring beginning teachers
And in the community:
writing workshops for high school, college, and university students

reading to the elderly

Community Playschool Leader

La Leché League librarian

mentor for single teen mother

fundraising for diving club, Tai Kwon Do club, Sunday School, etc.

Girl Guide Leader

Lay Leader for Jodo Shinshu Buddhist Fellowship of Thunder Bay

Thunder Bay Literacy Group
Educational Background:
Bachelor of Arts, Lakehead University, Ontario (English)
Bachelor of Education, Lakehead University, Ontario
Several extra university courses in English, History, and Anthropology
Basic Qualifications – Primary, Junior and Intermediate Divisions
Librarianship, Part 1, Part 2
Primary Education, Part 1
Computers in the Classroom, Part 1
Numerous workshops on computers, math, classroom management (such as co-operative learning), physical education and daily physical activity, health, teaching strategies, brain development (such as Eight Intelligences, Brain Gym), science, drama, music, social studies, assessment, evaluation, testing, and all aspects of literacy (such as First Steps and Six Plus One Traits of Writing).
Attended several university, college, and community workshops, courses, on-line courses, and retreats in writing
Trained as a lay-leader for Jodo Shinshu Buddhist Temples of Canada by Socho (Bishop) Orai Fujikawa
Completed four term Jodo Shinshu Correspondence Course, Jodo Shinshu Centre, Berkeley California
Contact me at b.ferrante at tbaytel dot net