FORGED IN FIRE / METAL ON METAL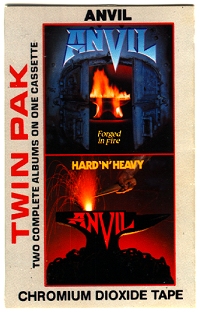 FORGED IN FIRE / METAL ON METAL (Attic Records - 1984 or 1985)
Produced by Chris Tsangarides

---
This was one of several "Twin Paks" cassettes released by Attic in the early to mid 1980s. It contains both the FORGED IN FIRE and METAL ON METAL albums. Note that the cover shows the FORGED IN FIRE and HARD 'N' HEAVY album covers.
Dave Allison performs lead vocals on "Stop Me" and "Never Deceive Me".
"March of the Crabs" is an instrumental.
Back to The ANVIL Homepage: Discography


Back to The ANVIL Homepage