STRENGTH OF STEEL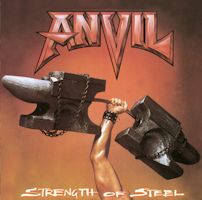 original cover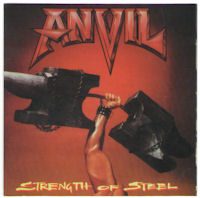 Hypnotic / Icarus cover
STRENGTH OF STEEL (Metal Blade Records - 1987)
Produced by Anvil and Paul Lachapelle

---
Lips and Dave Allison share lead vocal duties on "Straight Between The Eyes".
"Wild Eyes" was originally recorded by The Stampeders.
"Flight Of The Bumble Beast" is an instrumental.
Notice the Hypnotic / Icarus cover is a darker red.
The Brazilian CD includes two bonus tracks: "Rockin'" and "Straight Between The Eyes". Both are unreleased demos from 1985. This may be an unofficial release so I am not including the songs in the tracklist.
Back to The ANVIL Homepage: Discography


Back to The ANVIL Homepage