MOLTEN MASTERPIECES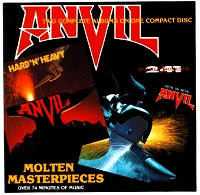 MOLTEN MASTERPIECES (Attic Records - 1989)
HARD 'N' HEAVY Produced by Alison, Reiner, Lips
METAL ON METAL Produced by Chris Tsangarides

---
This was a "Double Header - 241" CD released by Attic in 1989. It contains both the HARD 'N' HEAVY and METAL ON METAL albums. Note that "At The Apartment" and "Paint It Black" from HARD 'N' HEAVY were not included.
Dave Allison performs lead vocals on "I Want You Both (With Me)", "Oh Jane" and "Stop Me".
"March of the Crabs" is an instrumental.
Back to The ANVIL Homepage: Discography


Back to The ANVIL Homepage