BACKWAXED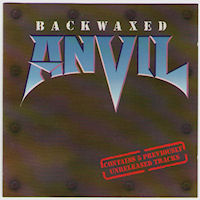 original cover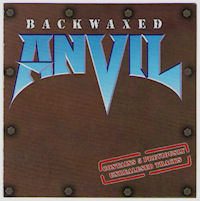 newer Unidisc cover
BACKWAXED (Attic Records - 1985)
Produced by Chris Tsangarides except * produced by Anvil

---
This album was released after Attic dropped Anvil. It was released by the Attic, not by Anvil. This is why the album is not named in the usual Anvil fashion and is the only album without an anvil on the cover.
The first 5 tracks were previously unreleased. The other 5 are from the first 3 albums. Actually, if you are a purist, "Steamin'" was previously released on the limited edition, UK-only, ANVIL 12" EP.
"Backwaxed" is from the FORGED IN FIRE recording sessions.
"Steamin'", "You're A Liar" and "Fryin' Cryin'" are from the METAL ON METAL recording sessions.
Dave Allison performs lead vocals on "You're A Liar".
"Pussy Poison" is an instrumental.
"School Love" is from the album HARD 'N' HEAVY.
"Scenery", "Jackhammer" and "Metal On Metal" are from the album METAL ON METAL.
"Butter-Bust Jerky" is from the album FORGED IN FIRE.
Notice the newer Unidisc rerelease uses a brighter blue for the Anvil logo and has a white outline around the red "stamp". Also the bolts are more visible and closer to the edge. "UNRELEASED" is also misspelled as "UNREALESED".
Back to The ANVIL Homepage: Discography


Back to The ANVIL Homepage