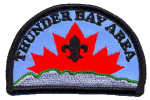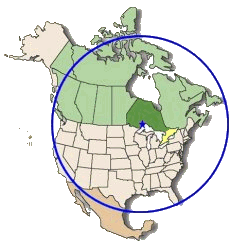 What to bring Canoeing
in Northern Ontario
Scouts Canada - Thunder Bay Area requires a Float Plan. It is a good idea even if you are not going on a Scouting Canoe Trip. List your route, when and where you plan to camp, your entry and exit points. List the vehicle Licence Numbers, the names of the people going, and where you will be leaving the vehicles. Make a copy of the Float Plan, and leave it with a relative or neighbour. Leave another copy with your outfitter, Park Staff or Police at point of departure. If someone needs to find you, they will at least know where to start looking!

Packing Hints
Pack light! This is not a 50 Km backpacking adventure, but the portages get longer the third time over!
A complete change of clothes, along with a sweat suit and wind pants should be enough for a week. Everything in your pack should do 2 or more functions.
One single burner Stove will prepare meals for 4 to 6 people. Figure two stoves, and you will have lots of hot coffee too!
There should be nothing loose in the canoe, everything should be "waterproofed" and stored in a pack. The tent should be packed with something that will float.
Have fun!

---
For Starters: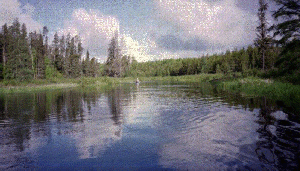 Compass and Waterproof Map(s)
Canoe: 17' (one for every 2 people)
25 foot Painter on each end of Canoe
Bailing Can (cut from Javex jug or 2 L plastic pop bottle) & Large Sponge
P.F.D with Whistle attached (Must be worn!)
Paddles (+1 spare per canoe)
Throw Bag with 15m boyant rope (for Canoe rescue) or a buoyant heaving line no less than 15 m (50') in length
Repair Kit (Epoxy putty/Duct tape)
Waterproof matches
Canteen or water bottle
Thermal Coffee Cup (For Drinking and Bailing)
Knife and Survival Kit (Fanny Pack)
Folding saw, Buck saw, or if you must, an Axe
Flashlight and extra batteries and bulbs
Sun protection (glasses, hat, sunscreen)
First aid kit
Insect repellent (No Sprays!)
Spare prescription eyeglasses and medications
Rain gear
Fishing gear & licence
Canoe kneeling pad (Closed cell foam/Blue sleeping pad)
Trip Log Book or note pad
Pencil
---
Packs: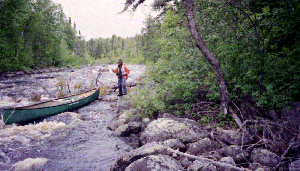 (As few and as small as possible)

External frame (proper fit critical)
Internal frame (proper fit critical)
Duluth Pack (85L is just right)
Rucksack
Day pack
Fanny pack
Stuff sacks (for organizing pack)
Dry Pack (and something for wet clothes too)
23 Litre plastic pail (for your sleeping bag or camp kitchen, and camp stool)
Note: To "water proof" your gear, put your stuff sack inside a plastic garbage bag, and that inside a second stuff sack. This will help prevent the garbage bag tearing and leaking. Don't forget to keep your sleeping pad dry too, or your sleeping bag will mop it dry for you!
---
Kitchen: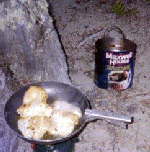 Matches (waterproof)
Camp Stove and fuel
Cook kit and utensils
Cup/Bowl/Plate
Sealed containers (for food, spices, coffee/tea, etc.)
Plastic bags (small and large)
Aluminum foil
Biodegradable soap, dish towel
Water purification tablets or filter
2 - 5 gallon water carrier
Food (Repackage to waterproof and save weight)
Juice/Sport Crystals (to flavour drinking water)
Bear Bag (Some people hang their food in a tree)
Lantern/ extra mantels (If you like to stay up late at night)
Kitchen Fly (Tarp or extra tent fly)
Ropes & pegs for kitchen fly
Ropes for Tarps and clothesline
---
Shelter:
Tent (seam-sealed, with fly, pegs and poles)
Tube of seam sealer
Spare tent pegs
Extra tie-down cord (50ft.)
Emergency repair kit
---
Clothing: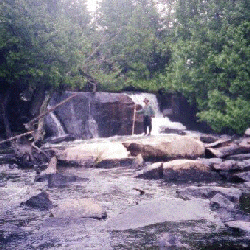 While Paddling

Boots (proper fit and well broken in!!)
Socks (acrylic or wool preferable)
Long sleeve shirts & pants OR
Shorts, T-shirts (depending on Sun, Bugs)
Hat & lightweight fleece gloves





Packed to keep dry

Camp Shoes (runners) (keep them dry!)
Socks (acrylic or wool preferable)
Sleeping Bag with temperature rating of -1° C or better
(This is a Summer bag in NWO!)
Lightweight underwear
Shorts, T-shirts
Long sleeve shirts & pants
Fleece Jacket (evenings/cool, wet weather)
Jogging Suit (PJ's and extra camp clothes)
Bathing suit
Insulation Layers (wool or synthetic fleece to suit season)
Rain/wind gear (jackets and pants or poncho-waterproof/breathable)
Toilet Kit: Comb, Toothbrush/paste
Towel
Biodegradable soap, shampoo
---
Optional Extras
Camera & extra film (when will you be back this way? Is one roll per day enough?)
G.P.S. with extra batteries is nice to reference points of interest. It is never used as the primary navigation tool. If you bring one, you should have taken a course on using it.
Personal Emergency Locator Beacon. In rough/remote country 3 or 4 days away from help, or for fly-in canoe trips, it may be "peace of mind protection".
---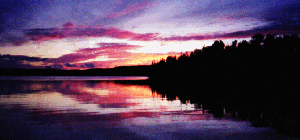 The Last Portage
In a small pack, left in the car:
Towel
Biodegradable soap, shampoo
Comb, Toothbrush/paste, razor
Socks, Underwear
Comfortable shirt, pants
Comfortable shoes
Can of Fruit etc. as a special Treat!
After the Last Portage, when the canoes are loaded on their carrier, and all the gear is stowed away for travel, have a swim, put on the clean dry clothes that you left in that pack in the car. Clean dry everything, from the skin out including dry shoes to travel in!


---
Note: This is a suggested list, and is only a start for your personal packing list. Add or subtract as your needs and experience change.
Ontario Provincial Parks have a ban on bottles and cans. Everything you take with you must come back, even the garbage. There are directions for the disposal of human waste. Ask for them when you make your Reservations. Find out the rules first! Remember this: Leave only footprints--Take only memories (and lots of pictures!).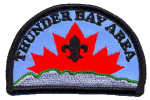 Index
---



This Web Page is maintained by Scouts Canada - Thunder Bay Area.

Please feel free to contact us with any questions or comments.

Privacy Statements




http://my.tbaytel.net/scouts/canolist.html