MULTI BIS BISS AM/CAN CH ASHENAFAY JILTEE ST NICHOLAS
AM BIS CH LA-SHAY'S BART SIMPSON X CH JILTEE ASHENAFAY STREET WALKER

Nick is #1 Cocker in Canada for 1998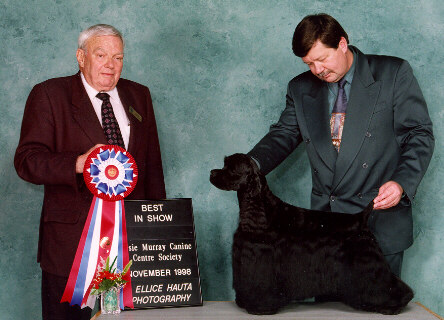 Nick finished his championship at 9½ months with BPIG wins then took a break before starting his "Specials" career in August of 97.

In the next 5 months he managed to obtain #2 Cocker in Canada.

His most exciting win was an all-breed Best in Show in BC with an entry of 1000+ dogs (shown here).

Nick has done his mother (HOOKER) and grandfather Walker (BISS A/C CH Ashenafay Walk on Water)

proud by carrying on their family tradition of strutting their stuff in the show ring.

Last update September 2000