Ch. Glenmurray's Very Berry
by Ch. Razzmatazz Ringleader ex Ch. Glenmurray's Blueberry
"Kerry"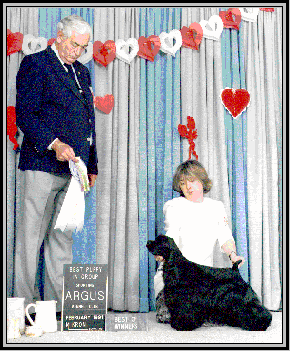 A BIG thank you to Lois Wilson for letting me have Kerry. I travelled to New York (A.S.C. Show, 1991) to bring her home with me. For an 11 month old from California, did she love the snow! We had close to three feet in our back yard , and she barrelled through it! The whole family came to see her the first night home. Everyone fell in love with her. She was a HIT! Kerry was also quite amazing her first show in Canada. In a large entry, she went BW, BP and BP in Group! In the Best Puppy in Show competition, she had had enough...she stopped half way on the go around and would not budge! Aren't dog shows fun??

Kerry has been bred three times. Her first breeding to my "Simon," Am./Can. Ch. Sarica's Autumn Trail Blazer, produced three champions from a litter of three - Am./Can. Ch. Sarica Bears The Trail, C.D., T.T., C.G.C., FdCh., Ch. Sarica Bears The Brass and Ch. Sarica Bears the Essence.

Her second breeding to Am./Can. Ch. Ashenafay Now There's Justice, (a Bold Venture son, Teddy great grandson), produced gorgeous puppies. I do own a lovely black female, Sarica Just Very Kountry, who just hasn't made it into the show ring (because it does seem that I spend more time with the boys!) Her litter brother is the star - Multi BISS Ch. Sarica Ashenafay Just In Time, owned by Kathy Lingman , and living with/handled by Shelley Whiteman. He is our multi-group winner/placer and Multi-Best In Specialty dog. Are we proud of him or what?? :-)

Her third breeding was to BPIS Ch. Northyork Tye To Cederkeys, (a Warlock son). From this breeding, came four boys. At three years of age, I still have all four. They are gorgeous!

Kerry definitely has made an impact on the breed here in Northwestern Ontario. She is a real sweetie!